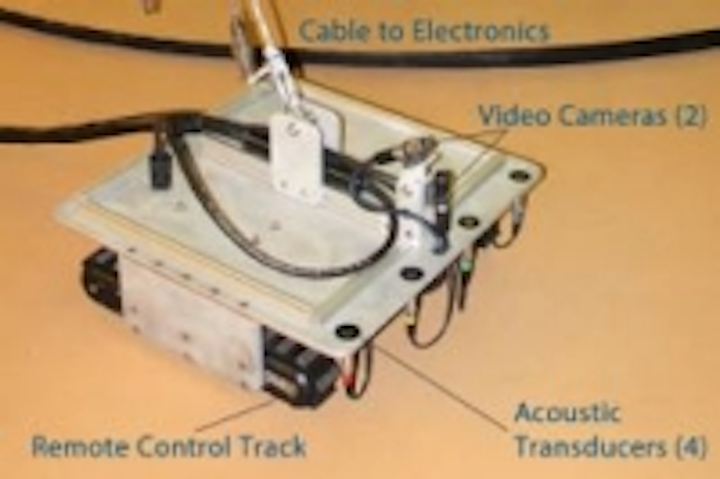 Editor's note: This article is continued from page one.
This is an important part of an oil spill cleanup, since knowing the spill volume is a key factor in mounting an effective response, including decisions about applying enough—but not too much—chemical dispersant.
Panetta's robot was initially prototyped at the 2.6 million-gallon Ohmsett Wave Tank in Leonardo, New Jersey, and will now be delivered for use by Ohmsett staff and other research teams.
"Our ROV will measure the thickness of experimental slicks at Ohmsett to aid in developing and testing oil-spill-response tools," said Panetta in the VIMS press release. "It will also provide a test platform for developing other sensors and for field applications. It's one step along the path to developing platforms for use in the ocean to measure slick thickness and other oil properties using acoustics."
The ultimate goal of the project, of course, is to continue to refine the technology to the point that it can eventually be used to help respond to actual spills in the open ocean, such as the Deepwater Horizon incident from 2010, where one of the most challenging aspects of the disaster was determining the amount of oil escaping from the seafloor wellhead beneath the drill rig.
"We've already thought of several improvements," said Panetta, "including integrating the video stream into the ROV software for more seamless operation. We'd also like to create a database of the acoustic properties of different types of oil as a function of temperature."
View the press release.
Share your vision-related news by contacting James Carroll, Senior Web Editor, Vision Systems Design
To receive news like this in your inbox, click here.
Join our LinkedIn group | Like us on Facebook | Follow us on Twitter | Check us out on Google +
Page 1 | Page 2