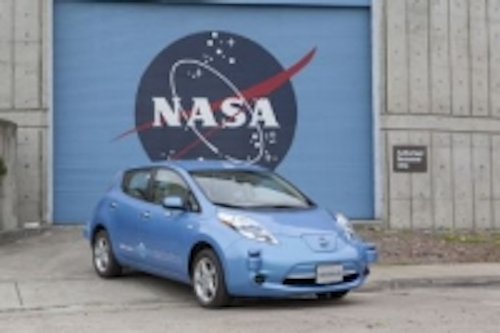 Nissan Motor Co. and NASA have announced the formation of a five-year research and development partnership that aims to advance autonomous vehicle systems and prepare for commercial application of the technology.
Researchers from Nissan's U.S. Silicon Valley Research Center and NASA's California-based Ames Research Center will focus on self-driving systems, human-machine interface solutions, network-enabled applications, and software analysis and verification, all involving sophisticated hardware and software used in road and space applications, according to a Nissan press release.
A fleet of zero-emission self-driving cars at Ames Research Center will be tested in order to demonstrate proof-of-concept remote operation of autonomous vehicles for the transport of materials, goods, payloads and people. These tests will parallel the way that NASA operates planetary rovers from a mission control center. The first vehicle of this fleet is set to be tested by the end of 2015.
"The work of NASA and Nissan – with one directed to space and the other directed to earth, is connected by similar challenges," said Carlos Ghosn, president and CEO of Nissan Motor Co. "The partnership will accelerate Nissan's development of safe, secure and reliable autonomous drive technology that we will progressively introduce to consumers beginning in 2016 up to 2020."
This news comes on the heels of an announcement from Google that the search engine giant's first fully-functioning self-driving car has been produced and will hit the streets of California in 2015. Google is touting the vehicle as its first complete prototype for fully autonomous driving. News of such developments should not come as a huge surprise. Last summer, a report from Lux Research suggested that car manufacturers and technology developers building self-driving cars will create an $87 billion opportunity in 2030, with software representing a key component of the potential market growth.
Pictured: The all-electric Nissan Leaf fitted with autonomous drive equipment at NASA's Ames Research Center.
Page 1 | Page 2