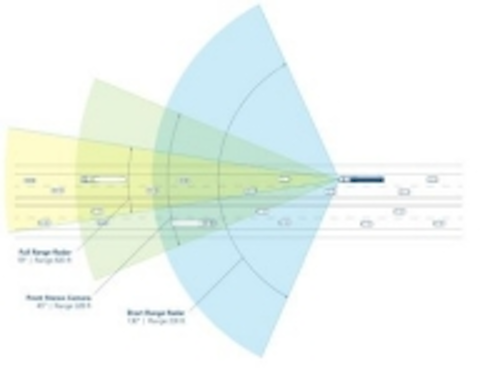 The area ahead of the truck is scanned by the stereo camera, which was a range of 328 ft. and scans an area of 45° horizontal by 27° vertical. The camera detects lane markings and communicates to the Highway Pilot steering gear for autonomous lane guidance. The Freightliner Inspiration Truck is equipped with computer hardware based on a series production Freightliner Cascadia Evolution, fully certified to meet all U.S. Federal Motor Vehicle Safety Standards.
DTNA's Freightliner underwent extensive testing before the Nevada Department of Motor Vehicles granted it a license to operate on public roads in the state. After granting the license, Nevada Gov. Brian Sandoval took part in the ceremonial first drive of the truck in autonomous mode. The prototype is a Level 3 autonomous car, meaning that, while it can perform autonomous tasks including maintaining legal speed, staying in the selected lane, keeping a safe braking distance from other vehicles, and slowing or stopping the vehicle based on traffic and road conditions, the driver can fully cede control of all safety-critical functions in certain conditions.
"Freightliner Trucks does more than any other commercial truck manufacturer to integrate the truck, the driver and the business. The Freightliner Inspiration Truck is a case in point because it is not a driverless truck—the driver is a key part of a collaborative vehicle system," said Richard Howard, Senior Vice President, Sales & Marketing, DTNA. "With the Freightliner Inspiration Truck, drivers can optimize their time on the road while also handling other important logistical tasks, from scheduling to routing. The autonomous vehicle technology not only contributes to improved safety and efficiency, but allows for improved communication through connectivity and integration."
View more information on the Freightliner Inspiration.
Share your vision-related news by contacting James Carroll, Senior Web Editor, Vision Systems Design
To receive news like this in your inbox, click here.
Join our LinkedIn group | Like us on Facebook | Follow us on Twitter | Check us out on Google +
Page 1 | Page 2