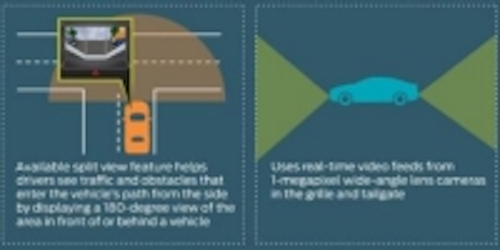 Ford is developing a new camera technology for its Edge and Explorer sports utility vehicles (SUV) in the United States and China that will enable drivers to see obstacles coming around corners.
One MPixel wide-angle lens cameras located in the front grille and the tailgate of the vehicle enable the "split-view" camera feature, which helps drivers see traffic and obstacles that enter the vehicles path from the side by displaying a 180° view of the area in front of, or behind a vehicle. A tiny telescopic jet washer keeps the front camera clean on every vehicle with split view, while the Ford Explorer also incorporates a jet washer for the rear camera. A tri-panel display on an 8 in. screen helps drivers to quickly understand whether an obstacle is coming from either side or straight on. The feature is activated at the touch of a button and automatically shuts off when a vehicle reaches 6.2 mph.
Ford's split-view feature was introduced on the 2015 Ford Edge and 2016 Explorer in the United States and China. Front split-view is offered on the edge, while front and rear split-view comes standard in the United States on the 2016 Explorer Limited and the Explorer Platinum. Soon, the feature will be available on the Ford S-MAX and Galaxy in Europe. By 2020, split-view will be available on early all Ford SUVs.
Ford's next vision-related project for its vehicles is for the next Super Duty, for which the company will offer its most advanced camera technology yet. Designed to help with staying in the lanes and enabling customers to see more angles around a truck and trailer, the system will consist of up to seven cameras and all-new digital architecture.
Currently, the 2016 F-150 has as many as five cameras available, which is the most for any vehicle in the Ford lineup. These cameras are mounted on the outside mirrors and the rear and front the vehicle to enable a 360° view.
View a Ford press release
Share your vision-related news by contacting James Carroll, Senior Web Editor, Vision Systems Design
To receive news like this in your inbox, click here.
Join our LinkedIn group | Like us on Facebook | Follow us on Twitter | Check us out on Google +