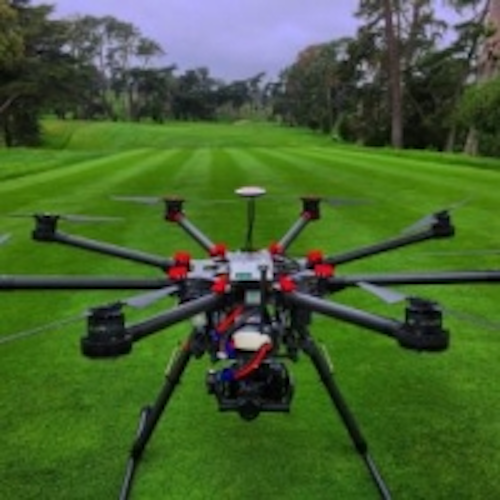 The blog is continued from page one.
Bryl's "Valkyrie" UAV is fitted with a searchlight, which helped to located the four people when the light reflected on the truck's taillight. Once spotted, the fire department sent over a rescue hovercraft to save the people inside of the truck.
Bryl didn't stop there, however. He also used Valkyire to carry a rope to a family trapped in their mobile home, which was surrounded by fast-moving water. The house was inaccessible to boat or hovercraft, but the UAV was able to fly over. With a rope attached to the house, rescue workers sent the family life preservers and used a helicopter to lift them out of danger.
View footage of the rescue.
UAVs filming U.S. Open
FOX Sports' coverage of golf's major championship at Chambers Bay in Tacoma, WA, USA includes the use of UAVs thanks to a company called HeliVideo.
HeliVideo brought a four-man team to the event—which runs from June 18-21—along with more than $1 million in equipment, including the DJI Spreading Wings 1000 drone, to help provide aerial coverage. HeliVideo was one of six companies to receive a Section 333 Exemption from the FAA to fly its vehicles at sporting events like the U.S Open and for movies or television productions.
As a result, the company is under the scrutiny of the FAA as they had to work with the organization to ensure its UAVs would stay far enough away from U.S. Open spectators.
"This is fun, but it also comes with a lot of stress," said company founder Eric Austin. "The FAA has us under a microscope right now."
View more information on Geekwire.
Additional Section 333 exemptions
Since the time of the last UAV roundup on May 22, nearly 150 individuals and organizations have received Section 333 exemptions to operate UAVs in the U.S. national airspace.
Some of the missions/operations the UAVs will be used in include search and rescue, aerial photography/imaging, precision agriculture, real estate imaging, environmental monitoring, research, commercial photography, and filming for television and movies.
Check out the latest Section 333 exemptions here.
Got something we should know about? Let us know.

Share your vision-related news by contacting James Carroll, Senior Web Editor, Vision Systems Design
To receive news like this in your inbox, click here.
Join our LinkedIn group | Like us on Facebook | Follow us on Twitter | Check us out on Google +
Page 1 | Page 2