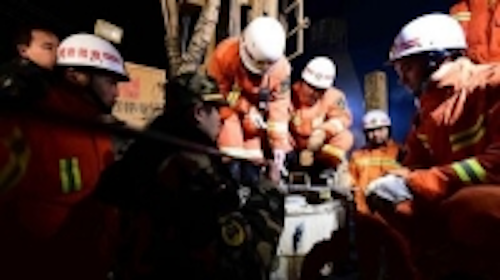 Five days after a mine in China caved in, trapping 25 employees of the Yurong Commercial and Trade Ltd. Co., rescue teams were able to locate eight of the trapped miners using infrared cameras.
The collapse of the gypsum mine—which is located in Shandong China—was so strong that it registered at China's earthquake monitoring center. Rescuers at the site used infrared cameras to detect eight of the missing workers waving their hands amongst the wrecked mine. The workers, according to a BBC article, were weak with hunger, but otherwise were in good health. The workers told the rescue team that they were in passages that are still intact.
Rescuers were able to send food and lights through a series of boreholes, but are being hampered by further rock falls and sudden in-rushes of water that have forced them back.
Although eight of the workers were found, nine are still missing, while seven have already been rescued, and one is known to have died.
Using infrared cameras to find missing people in caved in mines, or in other dangerous disaster sites, may not be something for which manufacturers of infrared cameras may advertise their product, but in this case, it may have helped to save at least eight lives.
View the BBC article.
Share your vision-related news by contacting James Carroll, Senior Web Editor, Vision Systems Design
To receive news like this in your inbox, click here
Join our LinkedIn group | Like us on Facebook | Follow us on Twitter