Amazon unveils latest Prime Air vision-guided delivery drone
Amazon has unveiled its latest autonomous unmanned aerial vehicle (UAV), or drone, that is designed to deliver small packages in less than 30 minutes in a video presented by former Top Gear host Jeremy Clarkson.
Dec 2nd, 2015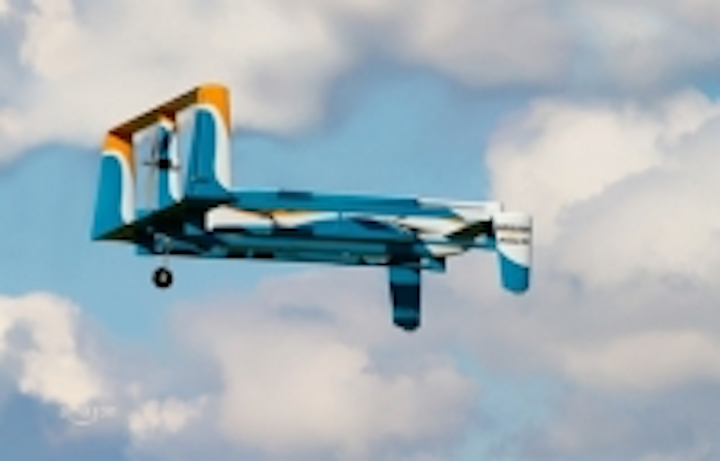 Amazon has unveiled its latest autonomous unmanned aerial vehicle (UAV), or drone, that is designed to deliver small packages in less than 30 minutes in a video presented by former Top Gearhost Jeremy Clarkson.
The latest model is designed to rise vertically at an altitude of up to 400 ft;, then transition into a horizontal flight path, where it will travel at speeds of approximately 55 mph, at distances of up to 15 miles. Its hybrid design uses lift fans and a pusher prop for lift and flight capabilities.
In order to navigate safely in the airspace, Prime Air is equipped with "sense and avoid" technologies, meaning it is equipped with some sort of presumably advancedvision system, though Amazon has not released any details on its components.
In the simulated delivery situation in the video, Clarkson notes that after a product is purchased and the drone is deployed, the buyer will receive a push notification on a tablet or smart phone, notifying you that the package is arriving. At this point, the drone goes back to vertical mode and scans the landing area for potential hazards. The drone then lowers itself to the ground, drops off the package, and flies straight back up to altitude.
In time, said Clarkson in the video, there will be a whole family of Amazon drones, with different designs for different environments. No particular launch date for the service is announced, since Amazon seems to be still ironing out the design and details for its airborne delivery vehicle. It is also noted on theAmazon Prime website that: "Putting Prime Air into service will take some time, but we will deploy when we have the regulatory support needed to realize our vision."
As it currently stands, commercial operation of drones in U.S. airspace is illegal without aSection 333 exemption. The FAA says:
"By law, any aircraft operation in the national airspace requires a certificated and registered aircraft, a licensed pilot, and operational approval. Section 333 of the FAA Modernization and Reform Act of 2012 (FMRA) grants the Secretary of Transportation the authority to determine whether an airworthiness certificate is required for a UAS to operate safely in the National Airspace System (NAS)."
This authority, according to the FAA, is being granted on a case-by-case authorization for certain UAVs to perform commercial operations prior to the finalization of the Small UAS Rule, which will be the primary method for authorizing small drones, once it is complete.
Additionally, the FAA notes:
"The Section 333 Exemption process provides operators who wish to pursue safe and legal entry into the NAS a competitive advantage in the UAS marketplace, thus discouraging illegal operations and improving safety. It is anticipated that this activity will result in significant economic benefits, and the FAA Administrator has identified this as a high priority project to address demand for civil operation of UAS for commercial purposes."
Earlier this year, Amazon was granted a Section 333 exemption from the FAA. As noted above though, the company still awaits regulatory support, with the FAA anticipating that it will announce its rules for legal, commercial operation of drones by summer 2016.
What are your thoughts? Do you support the idea of delivery drones?

View more information onAmazon Prime Air.
Share your vision-related news by contactingJames Carroll, Senior Web Editor, Vision Systems Design
To receive news like this in your inbox,click here.
Join ourLinkedIn group | Like us on Facebook | Follow us on Twitter| Check us out on Google +