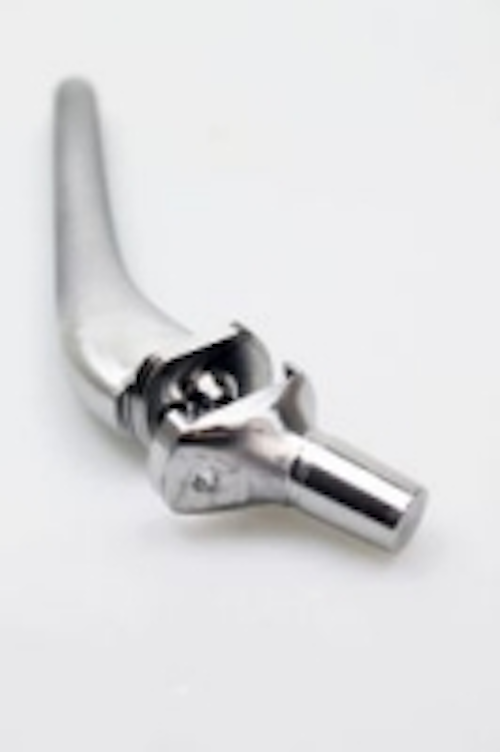 Editor's note: This article is continued frompage one.
"The margin of error in our process is less than one centimeter," said Dr. Ronny Grunert, a researcher at IWU. "Eventually we'd like to get that down to five millimeters." Currently, the usual procedure calls for the physicians to determine leg length using a tape measure, which can lead to errors of up to two centimeters.

During the operation, the box remains on the patient's leg. Measurements are taken twice—once right before the operation, and once after the implant has been temporarily inserted. Software is then used to compare both arcs to determine is the leg is the same length as it was before the procedure. If necessary, the physician can make adjustments to the artificial hip. Initial testing of the measurement system prototype has been met with success at the Leipzig University hospital, and there are currently plans in place for a clinical trial later in 2015, with hopes that the system could be on the market in about two years' time.
In addition to developing the new system, the Fraunhofer researchers also optimized the hip implant by doing away with prefabricated implants in various sizes, and opting for a modular system in which a physician can select the right hip stem as well as the right neck for each patient. Special screw connections are then used to attach the individual parts to each other and the combined unit is implanted in the hip for testing. With this method, the physician measures leg length, and if necessary, can easily separate the implant's components to exchange them for a better-fitting part.
The team also included the Clinic for Orthopedics, Trauma Surgery and Plastic Surgery at the Leipzig University Hospital; University of Applied Sciences Zwickau and its Research and Transfer Centre; AQ Implants GmbH; and MSB-Orthopädie-Technik GmbH.
View theFraunhofer press release.
Share your vision-related news by contactingJames Carroll, Senior Web Editor, Vision Systems Design
To receive news like this in your inbox,click here.
Join ourLinkedIn group | Like us on Facebook | Follow us on Twitter| Check us out on Google +
Page 1 | Page 2