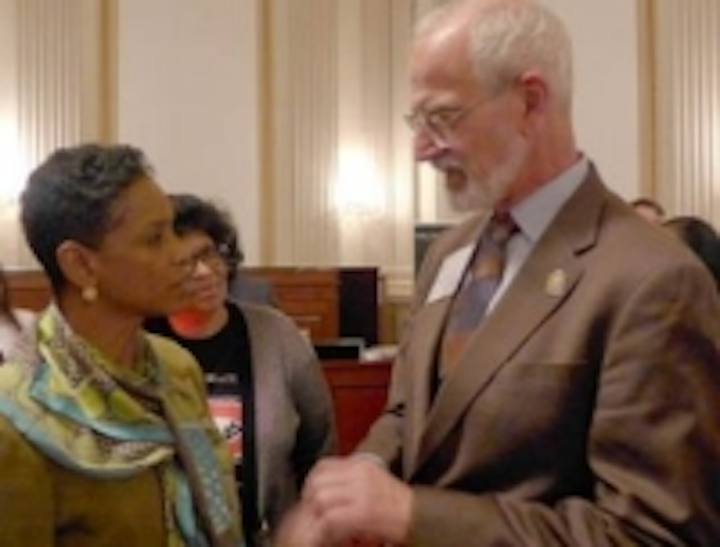 Editor's note: This article is continued from page one.
Pictured: Rep. Donna Edwards (D-Maryland) is congratulated by SPIE President-Elect Robert Lieberman after being awarded the George E. Brown Award during the STEM on the Hill reception. Edwards and Sen. Richard Shelby (R-Alabama) were honored with the award for their vision in promoting public policies that benefit science and engineering.
Furthermore, the NPI group also expressed support for:
President Obama's budget request for science research and development within the National Science Foundation, National Institute of Standards and Technology, National Institute of Health and the Department of Energy's Office of Science, and DOD and technology programs.
Rejection of the administration's budget request for cuts in the DOD basic research account. The NPI is urging Congress to uphold a proposal increasing funds for applied research.
Jim McNally, chair of the SPIE Engineering, Science, and Technology Policy committee and member of the SPIE Board of Directors said that the experience was quite positive, and that the combination of visits and leave-behind materials proved to be effective.
"NPI CVD was a very positive experience," said Jim McNally, chair of the SPIE Engineering, Science, and Technology Policy (ESTeP) committee and member of the SPIE Board of Directors. "At each office we visited, we delivered our message of support for the priority of providing funding for legislation that will enable photonics to help make the economy stronger and our technology more competitive."
He added, "Our New Mexico senators, Tom Udall and Martin Heinrich, are very supportive of our priorities," he said. "Our visits and the materials prepared by SPIE and NPI to leave with our elected federal officials and their staffs were well received."
Members of the SPIE CVD team and the regions they represented included:
Christina Willis, Washington, D.C.
Farzan Ghauri, Illinois
Filipp Ignatovich, New York
Jason Mulliner, Arizona and New Jersey
SPIE Fellow Jim McNally, New Mexico
Julia Majors, California and Texas
SPIE Fellow Marc Himel, Florida
SPIE Fellow Martin Richardson, Florida
Murat Yildirim, Texas
Nishant Mohan, North Carolina
SPIE President-Elect Robert Lieberman, California
Stephen Anderson, Maryland
Tyler Morgus, New Jersey
Tom Battley, New York
Volker Sorger, Virginia
View the SPIE press release.
Share your vision-related news by contacting James Carroll, Senior Web Editor, Vision Systems Design
To receive news like this in your inbox, click here.
Join our LinkedIn group | Like us on Facebook | Follow us on Twitter | Check us out on Google +
Page 1 | Page 2