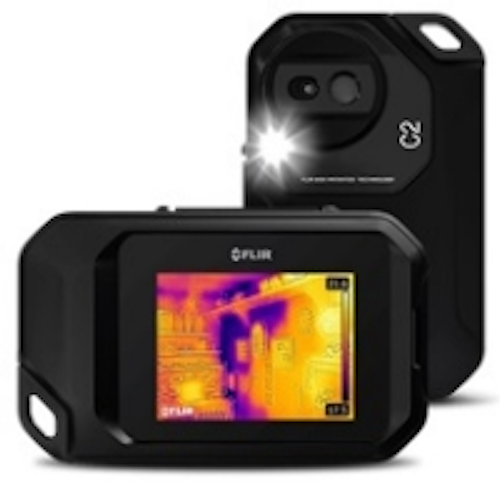 FLIR Systems has announced the release of the C2 Education Kit, which is designed to bring the power of thermal imaging technology within the reach of elementary schools, high schools, and other educational institutes.
The C2 Education Kit is centered around a FLIR C2 thermal imagingcamera, which is a pocket-sized camera that features an 80 x 60 infrared detector with a 7.5 – 14 µm spectral range, a 3" color display, and a 9 Hz image frequency. In addition, the camera provides n-board facility for image storage which can be recalled for later analysis, as well as a visible camera. With FLIR's patented Multi-Spectral Dynamic Imaging (MSX) functionality, students will be able to overlay thermal and visual images thereby simplifying understanding of thermal images.
The C2 Education Kit also comes FLIR's ResearchIRsoftware, which provides real-time streaming and recording of thermal movies, as well as a tripod mount and access to FLIR education content with lectures, experiments and teacher's guides.
The FLIR C2 Kit is designed specifically as an enabling package for classroom instruction and is available with an exclusive discount for educators and students.
View more information on theFLIR C2 Education Kit.
Share your vision-related news by contactingJames Carroll, Senior Web Editor, Vision Systems Design
To receive news like this in your inbox,click here.
Join ourLinkedIn group | Like us on Facebook | Follow us on Twitter