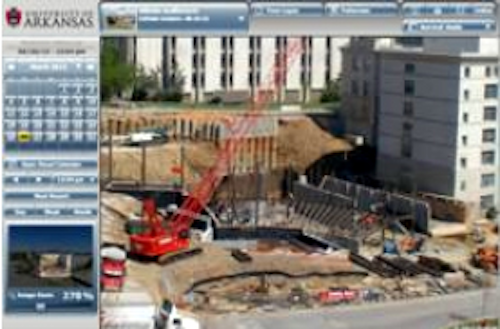 OxBlue (Atlanta, GA, USA) has published two case studies illustrating the benefits of using its construction cameras on large educational construction projects.

Two public universities, the University of Arkansas (Fayetteville, AR, USA) and the University of Iowa (Iowa City, IA, USA) initially chose to use the company's construction webcams on their projects for public relations reasons.

In each case, investors and other key stakeholders, including the public, were given access so that they could watch the progress of the projects they had invested in. At both schools, those overseeing construction soon discovered that the cameras were a valuable tool for monitoring daily activity without physically having to be on the actual construction sites.

Project managers used the cameras to monitor progress and workflow, verify weather conditions at any given time, contact contractors when necessary and document their projects from start to finish.

OxBlue supplied each institution with a complete turnkey solution, including camera hardware, cellular data connections, servers, software and time-lapse movie production expertise.

The full text of the case studies can be found here.

Related articles from Vision Systems Design that you might also find of interest.
1. Spin out set up for surveillance

A new company has been set up in the UK to target systems integrators delivering surveillance solutions into the global defense and commercial security markets.

2. Infra-red thermography highlights bridge hot-spots
Engineers at Infrasense (Arlington, MA, USA) have recently completed subsurface investigations of seventeen bridge decks in the Greater Chicago area using infra-red thermography.

3. GigE cameras detect cracks in tunnels

Engineers at terra international surveys have developed a tunnel inspection system called tCrack that employs ten Basler 5-Mpixel pilot cameras set around a semicircular frame.

-- Dave Wilson, Senior Editor, Vision Systems Design