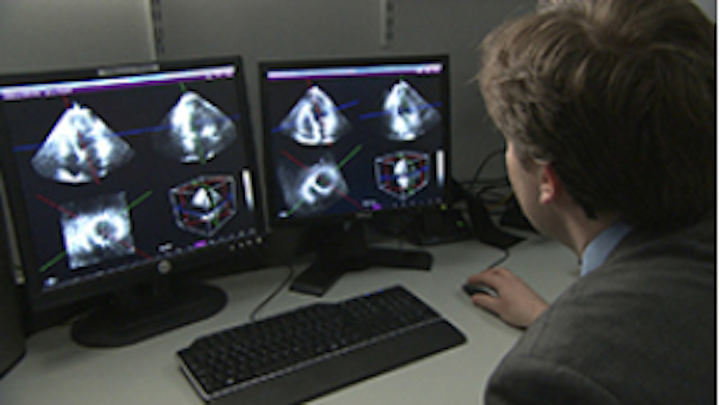 An Oxford University (Oxford, UK) spin-out has developed software that enhances the detail and field of view of conventional ultrasound images.
Called IDF (Intelligent Data Fusion) Echo, it was unveiled today by Intelligent Ultrasound (Oxford, UK) at the Healthcare Innovation Expo 2013 at London's ExCel Centre.
While widely and routinely used, standard ultrasound scans can be prone to image quality problems and have a limited field of view, meaning that a single view of the entire organ is impossible to obtain and that a definitive diagnosis cannot be made.

IDF Echo tackles this problem by generating a composite image from a number of scans. This image delivers better-quality information than the individual component scans. The key benefit is that this can make diagnosis possible without the need for referral to MRI or CT scans, which are many times more expensive than ultrasound.

IDF Echo builds on work led by Professor Alison Noble and her team at the Institute of Biomedical Engineering at Oxford University which was originally funded by the Engineering and Physical Sciences Research Council (EPSRC).
It is now available for equipment manufacturers to incorporate into their ultrasound machines. Evaluations have already been undertaken with the involvement of clinical groups in Oxford and Intelligent Ultrasound is now looking to extend evaluations to other NHS hospitals.
The company is currently developing similar products designed to enhance the use of ultrasound in other areas of healthcare, such as obstetrics.
Related articles on ultrasound technology from Vision Systems Design that you might also find of interest.
1. Analyzing ultrasound helps diagnose cancerous tissue
An assistant professor of physics at Kettering University (Flint, MI, USA) is seeking a better way to diagnose between chronic pancreatitis and pancreatic cancer by analyzing endoscopic ultrasound images.

2. 3-D ultrasound software company spins out of Oxford
University of Oxford (Oxford, UK) spin-out Intelligent Ultrasound (Oxford, UK) has raised £610,000 to develop software that can reduce the risk of incorrect or missed diagnoses from ultrasound scans and avoid costly, inconvenient rescans.

3. Ultrasound propels nondestructive testing
Researchers at the Fraunhofer Institute for Industrial Mathematics (ITWM; Kaiserslautern, Germany) have now developed a mobile mechanized ultrasound system that can be used for the nondestructive testing of complex components.

4. Ultrasound helps medics to measure muscle wasting

Researchers led by Dr. Zudin Puthucheary from University College London (London, UK) have identified a new technique that can help determine the severity of muscle loss in critically ill patients.

-- Dave Wilson, Senior Editor, Vision Systems Design