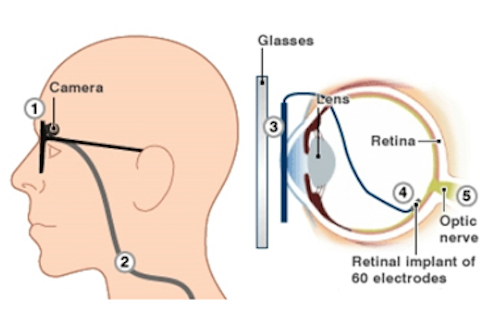 Last month, the Food and Drug Administration (FDA) approved what it called "the first bionic eye for the blind" which was developed by a team of physicians and engineers from around the US.
The Argus II Retinal Prosthesis System aids adults who have lost their eyesight due to retinitis pigmentosa (RP), age-related macular degeneration or other eye diseases that destroy the retina's light-sensitive photoreceptors.

At the heart of the device is an integrated circuit developed by UCLA (Los Angeles, CA, USA) Professor Wentai Liu that, when implanted in the retina, effectively sidesteps the damaged photoreceptors to "trick" the eye into seeing.

The Argus II operates with a miniature video camera mounted on a pair of eyeglasses that sends information about images it detects to a microprocessor worn on a user's waistband.

The microprocessor wirelessly transmits electronic signals to the integrated circuit that stimulates the retina's nerve cells with electronic impulses which head up the optic nerve to the brain's visual cortex. There, the brain assembles them into a composite image.

Recipients of the retinal implant can read oversized letters of the alphabet, discern objects and movement, and even see the outlines and some details of faces. While the picture is far from perfect, it is a breakthrough for the people who have received the implant in clinical trials.

The Argus II technology is now available to patients through the company Second Sight (Sylmar, CA, USA).

More information can be found here.

Related articles from Vision Systems Design that you might also find of interest.
1. Lens mimics human eye

A team of researchers has created an artificial lens made up of thousands of nanoscale polymer layers that is nearly identical to the natural lens of the human eye.

2. Coating copies the eye of a moth

A group at the Max Planck Institute for Intelligent Systems (Stuttgart, Germany) co-ordinated by Professor Joachim Spatz has developed a new way to artificially produce moth eye-like coatings.

3. Major advance for bionic eye

University of New South Wales (UNSW; Sydney, Australia) researchers have unveiled the first microchip which is expected to power Australia's first bionic eye.

-- Dave Wilson, Senior Editor, Vision Systems Design