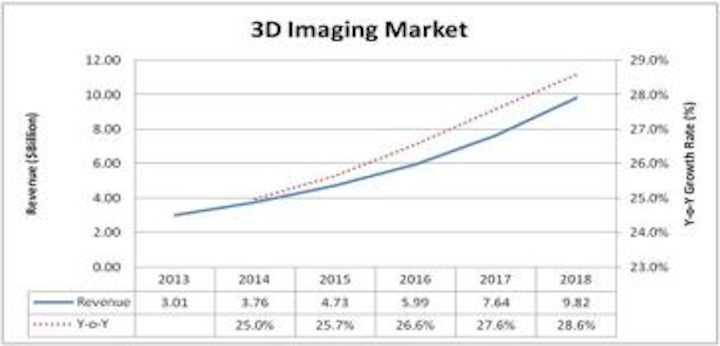 Global sales in the 3D imaging market are expected to grow from $3.01 billion in 2013 to $9.82 billion by 2018 at an estimated compound annual growth rate of 26.7%, according to an analysis from MarketsandMarkets.
This significant jump is expected to occur as a result of the increasing demand of 3D imaging across a variety of verticals. Included, with examples provided, are the following:
Companies that are expected to drive growth include Google,HP,GE Healthcare, Panasonic, Apple, Sony, and Agilent Technologies, according to the report. Factoring into the report are global adoption trends, evolving platforms in the market, opportunity analysis, and competitive landscape.
MarketsandMarkets focuses on various markets in the report, but the major regions represented are North America, Western Europe, Eastern Europe, Asia Pacific, Middle East and Africa, and Latin America.
Read more or purchase the 3D imaging market analysis from MarketsandMarkets.
Also check out:
Image sensor market predicted to reach $10.75 billion by 2018
Factory automation market could reach $185 billion by 2016
Global industrial robot sales in 2012 hit second highest mark ever

Share your vision-related news by contacting James Carroll, Senior Web Editor, Vision Systems Design
To receive news like this in your inbox, click here.