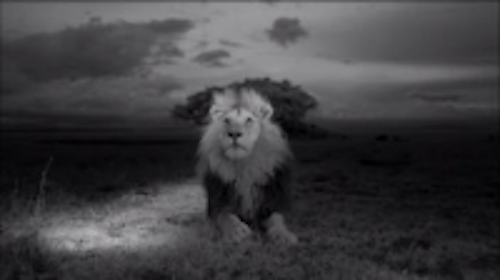 Photographer Michael "Nick" Nichols used infrared photography, unmanned aerial vehicles (UAV), and vision-enabled robots to capture never-before-seen images of lions in the wild for the August issue of National Geographic.
In a Q&A with National Geographic, Nichols explains that about five years ago, he decide to pursue this feature in order to have it coincide with a 35-year study of lions in the Serengeti Plain.
Nichols used a MikroKopter UAV in order to provide a view of the Serengeti without bringing a helicopter, which is dangerous, requires permits to fly low, and makes a lot of noise and smoke, which drives lions away. The lions were at first a bit spooked by the UAV, but eventually they seemed to have fun with it and one time, a lion even tried to jump and grab it, he explains. Nichols used an off-the-shelf Canon camera but had the top layer of the camera's sensor removed, which enabled it to become sensitive to infrared lights. (LEDs were mounted on the top of the truck to produce infrared light) Without autofocus or autoexposure, the images and video have a unique, raw feel to them.
Nichols then used a small, ground-level robot to follow the lions around and capture images and video of them in their natural habitat. An LT2 Tracked ATR Robot Platform from SuperDroid was customized specifically for the operation. This robot includes a heavy duty aluminum robot chassis and hardware and features two IG52-04 planetary 285 RPM gear motors (one per track) driven by a chain and sprocket with a 1:2 reduction. It can handle 25 pounds of additional payload in most terrains, and moves at variable speeds. In this case, however, its main function was to be relatively inconspicuous and capture footage and images of the lions.
Nichols' assistant, Nathan Williamson, did all of the piloting of the remote camera via Wi-Fi operating. Footage and images of the lions captured by the robot can be found here. (I highly recommend having a look.)
When asked to look back on the project, Nichols said that this Serengeti lion project was the culmination of his collaborative work with Williamson. He also said that the expedition was an extremely immersive one.
"You have to lay siege: You don't take days off; you just sit with lions. You cannot do it any other way. You need to know if they've had a meal or not, because when they have a meal they sleep it off. I was trying to get continuity out of one pride, though I was monitoring four," he said."
He added, "I'm not trying to change the game. I was just there to witness."
Nichols stated at the end of the interview that in ten years, he'd like to do another definitive lion project with technology that will enable him to work better at night. He also said he would like to use an electric car to reduce noise as to not disturb any of the lions.
View the National Geographic Q&A article.
Also check out:
Personalized vision-enabled robots for older adults
Researchers hoping to mimic vision of dragonflies in robots
Underwater robots search for World War II pilots, aircraft
Share your vision-related news by contacting James Carroll, Senior Web Editor, Vision Systems Design

To receive news like this in your inbox, click here.
Join our LinkedIn group | Like us on Facebook | Follow us on Twitter | Check us out on Google +