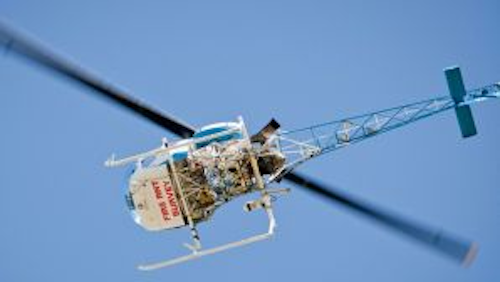 Since 2001, red imported fire ants have caused fits in Brisbane, Australia, where the pests have affected crops, local species, and human health; so the Australian government is thinking outside of the box in order to solve their problem.
To date, attempts to eliminate the problem have failed, but now Biosecurity Queensland is using remote sensing cameras on piloted helicopters to address the issues. These helicopters are equipped with *infraredcameras that will survey large areas and pinpoint fire ant nests that need to be destroyed, according to the Queensland Government's Department of Agriculture, Fisheries, and Forestry (DAFF).
These fire ant copters will capturemultispectral images using helicopter-mounted *sensors that detect reflected energy in visible, near-infrared, and thermal frequency bands. Images captured by the copter that contain fire ant nests will contain a distinct "signature" due to their heat characteristics, and an algorithm developed by DAFF specifically for Queensland conditions then recognizes that signature.
By utilizing aerial cameras to identify fire ants, a much larger area can be searched in a shorter period of time. In addition, the estimated costs of theaerial surveillance program could save the government approximately $24M per year.
View theDAFF aerial surveying for fire ants website.
*Editor's note: Make or model of the cameras or image sensors not listed.
Also check out:
Five ways UAVs are being used by civilians
U.S. Coast Guard makes first drug bust using UAVs
A glimpse into how the scientific community might leverage UAV technology
Share your vision-related news by contactingJames Carroll, Senior Web Editor, Vision Systems Design
To receive news like this in your inbox,click here.