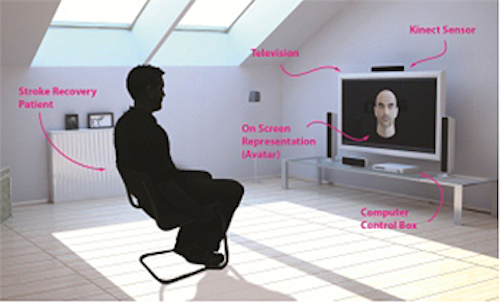 Researchers at Nottingham Trent University (Nottingham, UK) have been awarded a £347,000 grant to investigate how Microsoft's Kinect can assist with the rehabilitation of individuals with facial paralysis caused by a stroke.

The system will automatically detect and track asymmetries on either side of a patient's face -- such as mouth corner, eyelids and cheeks -- while they complete routine facial exercises. This information will then be shown on a TV or computer screen to give immediate feedback to the user.

"This tool will recognize the differences between an undesirable one-sided unilateral movement and a desired symmetrical movement, across both sides of the face. This information would then be conveyed via the TV using an animated representation, or avatar, of the patient," says Dr. Philip Breedon, a reader in smart technologies at Nottingham Trent University's school of architecture, design and the built environment.

Using the avatar as both a visual and oral communicator, the system will take the patient through a series of exercises and indicate the degree of success. It is hoped that the information will also be sent electronically to a clinician to allow them to track the patient's progress.

This is claimed to be an advancement on the traditional method currently used, where patients are provided with a series of exercises on printed paper, so they are unable to assess on a daily basis whether they are making improvements or performing the correct movements.

The project, which is in partnership with the University of Nottingham, Nottingham University Hospital, Nottingham City Care Partnership and Maddison Product Design, has been funded by an esteemed National Institute for Health Research Invention for Innovation (NIHR i4i) grant.

Due to commence in April 2013 for 18 months, the research group are aiming to create a prototype that can eventually be mass produced.

Related articles from Vision Systems Design that you might also find of interest.
1. Kinect system helps doctors review records

Doctors may soon be using a system in the operating room that recognizes hand gestures as commands to tell a computer to browse and display medical images of the patient during a surgery.

2. Therapy system gets physical with Kinect-based motion analysis

Students at the University of Leeds' Department of Mechanical Engineering have developed a Kinect-based system designed to measure the rehabilitation progress of patients who suffer strokes or other neurological disorders.

3. Kinect could help medics estimate radiation dose from CT scanner

Researchers at the Hospital of the University of Pennsylvania are investigating whether a system based around the Microsoft Kinect could be used to help predict the precise dose of ionizing radiation thatpatients require during a CT scan by providing an accurate estimate of whole-body volume.

Vision Systems Design magazine and e-newsletter subscriptions are free to qualified professionals. To subscribe, please complete the form here.

-- Dave Wilson, Senior Editor, Vision Systems Design