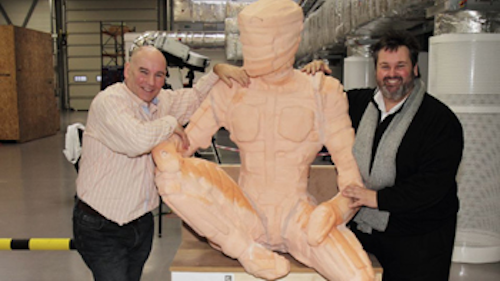 Engineers at Sheffield Hallam University (Sheffield, UK) have played a crucial role in the development of a proposed landmark sculpture called the Man of Steel for the Sheffield city region.

Before production on the Man of Steel could begin, artist Steve Mehdi's original small sculpture had to be turned into a computer model by researchers in the geometric modelling and pattern recognition group at Sheffield Hallam.

The team, led by Professor Marcos Rodrigues, used laser scanning technology to create a 3-D model, containing five million data points.

John Halfpenny, a manufacturing engineer at the University of Sheffield's Advanced Manufacturing Research Centre (AMRC) with Boeing Composite Centre, then converted the data into the tool path instructions the computer-controlled machining center needed to cut the model board to the precise shape.

The Man of Steel is the creation of sculptor Steve Mehdi, and was originally created as a 30cm bronze figure. It is designed to pay tribute to South Yorkshire's long history of steel and coal industries, while also reflecting the region's 21st century strengths in advanced manufacturing and metals technology.

The proposed 30m sculpture will overlook the M1 motorway, on a former landfill site a few miles north of the AMRC campus on the Advanced Manufacturing Park.

The finished model will be on show at the AMRC during the Global Manufacturing Festival in April, which commemorates the centenary of stainless steel's discovery by Sheffield metallurgist Harry Brearley. It will also be exhibited at the Magna Science Centre in Rotherham and Kelham Island Museum in Sheffield.

The picture above shows Steve Mehdi (left) and business partner Paul Blackburn from Mehdi Sculptures with the AMRC's model Man of Steel.

Related articles on 3-D scanning that you might also be interested in reading.
1. 3-D modeling improves spinal casting process

Engineers at 4DDynamics have developed a 3-D system that can be used to develop prosthetic corsets in less than half a day.

2. Archaeological collections scanned in 3-D

The Sustainable Archaeology Animation Unit (SAAU) of Sustainable Archaeology has taken steps to make Ontario's archaeological records accessible to researchers, students, and the public by scanning them with a 3-D scanner from 3D3 Solutions (Burnaby, BC, Canada).

3. 3-D laser scanning improves hose inspection

An Australian supplier of rubber hoses for automobiles has invested in 3-D laser scanning as a means to ensure that its products precisely match design specifications.

-- Dave Wilson, Senior Editor, Vision Systems Design