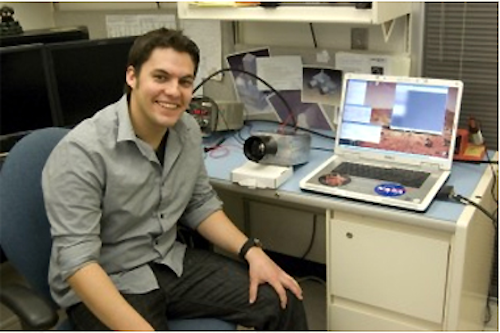 A third-year graduate student in the School of Earth and Space Exploration (SESE) at Arizona State University (ASU; Phoenix, AZ, USA) has been chosen to build a multispectral infrared and visible light camera system that will launch on a space satellite.

The new camera developed by Michael Veto will play a central role in the payload for the Prox-1 satellite, which won the seventh University Nanosat Program (UNP) competition sponsored by the Air Force Office of Scientific Research and the Air Force Research Laboratory. It will be constructed in a cleanroom at SESE's new Interdisciplinary Science and Technology Building on the Tempe campus.

The Prox-1 mission is designed by students at the Georgia Institute of Technology under the guidance of Professor David Spencer, within Georgia Tech's Center for Space Systems. It will demonstrate automated trajectory control in low-Earth orbit relative to a deployed sub-satellite, or cubesat.

The flight plan calls for Prox-1 to release this smaller spacecraft, which is a version of The Planetary Society's LightSail solar sail spacecraft. Then, using the ASU multispectral camera's images to guide its trajectory, Prox-1 will fly in formation with the LightSail spacecraft. The ASU camera will also take images of the LightSail solar sail as it opens.

In addition to demonstrating automated proximity operations, Prox-1 will provide flight validation of advanced sun sensor technology, a small satellite propulsion system, and a lightweight thermal imager.

The Prox-1 team will complete spacecraft integration and testing, working toward a launch in 2015.

In addition to support from the US Air Force, the Prox-1 team has been supported by contributions from the Georgia Space Grant Consortium, The Aerospace Corporation, Raytheon Vision Systems, and the Jet Propulsion Laboratory.

Related stories from Vision Systems Design you might also find of interest.
1. Imaging sensors launched into space

On 23rd March 2012, imaging sensors from e2v (Chelmsford, Essex, UK) were launched into space onboard the European Space Agency's (ESA) Edoardo Amaldi spacecraft, the third Automated Transfer Vehicle (ATV) to be sent to the International Space Station (ISS).

2. High definition views of Earth streamed from space

A joint venture between Canada, Russia and the UK will enable near-live video to be streamed back to Earth from two cameras installed in the International Space Station (ISS).

3. Miniaturizing laser radar systems for space

Researchers working on behalf of the European Space Agency are developing small 3-D imaging lidar (light detection and ranging) systems for use in space.

-- Dave Wilson, Senior Editor, Vision Systems Design