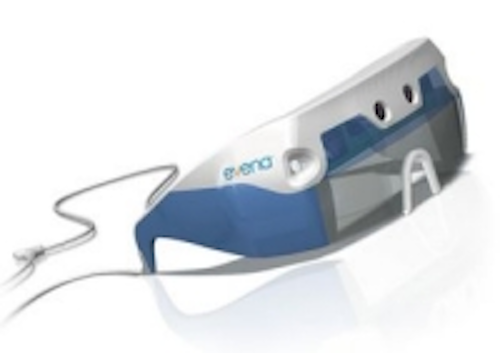 Evena Medical has launched its Eyes-On Glasses System, a point-of-care wearable glasses unit which enables 3D multispectral imaging of a patient's veins for more precise placement of intravenous (IV) needles.
The Evena Medical smart glasses system utilizes Epson's Moverio smart glasses technology platform as its base. Moverio smart glasses have two cameras mounted on the front of the unit that transmit images of the patient's veins in real-time via Bluetooth, WiFi, or 3G wireless connectivity. In addition, the glasses feature an image resolution of 960 x 540 pixels, LED lights, an aspect ratio of 16:9, a field of view of 23°, and 24-bit color depth. Its refresh rate is 60 Hz and it also features mini USB connectivity and an 80" perceived screen.
Evena glasses offer a binocular design which projects overlays digital content onto the real-world view in the center of the wearer's field of view. The glasses also feature dual speakers for two-way audio capabilities. The glasses have digital storage which enables verification and documentation of vein patency throughout a patient's stay in the hospital, and telemedicine capability to share images remotely, according to the press release.
Frank Ball, Evena Medical President and CEO said that the new Eyes-On system provides a solution to an ongoing patient care issue.

"Studies have shown that up to 40% of IV starts require multiple attempts to locate and access a vein, which not only wastes valuable nursing time but also delays therapy and causes patient discomfort and dissatisfaction," he said. "With Evena's Eyes-On glasses, nurses can quickly and easily locate and access the best veins for each patient – even in challenging clinical environments such as pediatric or neonatal units."
In addition to the imaging, audio, and storage capabilities that the smart glasses feature, they also come equipped with an interface for picture archiving and communication system (PACS) medical imaging technology and electronic medical records (EMR), for automated documentation of appropriate care.
View the press release.
Also check out:
3D imaging and analysis software detects lung cancer in sputum cells
Academic researchers working to create pediatric eye cancer detection software
Fraunhofer scientists combine medical imaging techniques for gentler biopsies

Share your vision-related news by contacting James Carroll, Senior Web Editor, Vision Systems Design
To receive news like this in your inbox, click here.
Join our LinkedIn group | Like us on Facebook | Follow us on Twitter | Check us out on Google +