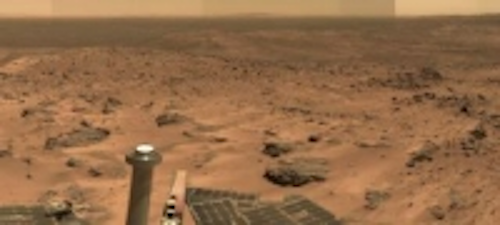 In 2005, NASA's Spirit Rover captured a series of images of the surface of Mars, and these images were subsequently used to create a 360° panoramic image of the red planet. The image, which was featured as NASA's Astronomy Picture of the Day on December 8, shows Mars in the same resolution as a human with 20-20 vision.
The images used to create the panorama were taken from the pinnacle of an area of Mars called Husband Hill, and has been dubbed the "Everest" panorama, in honor of the view from Earth's tallest mountain. The Spirit Rover contains a number of optical instruments, including the Pancam panoramic camera, which captured the images used to create Everest. Pancam consists of a pair of color stereo CCD cameras, which image the surface and sky of mars. The Pancam Mast Assembly enables the cameras to rotate a full 360° to obtain panoramic views of the Martian landscape. Pancam's cameras weigh only 270 grams (about 9 ounces), but can generate panoramic image mosaics as large as 4,000 x 24,000.
Each of the Pancam's lenses has a filter wheel which enables multispectral imaging, which allows scientists to learn more about the minerals found on Mars. Blue and infrared solar filters facilitate the camera to image the sun, and this, along with images of the sky at different wavelengths, helps to determine the orientation of the rover and provide information about the dust in the atmosphere of Mars.
Spirit's Pancam enables NASA scientists to scan the horizon of Mars for landforms that may indicate a past history of water, as well as create a map of the area where the rover lands and search for interesting rocks or soils for study.
Via PetaPixel.
View the NASA picture of the day.
Also check out:
DARPA building folding space telescope with lightweight membrane optics
NASA aircraft gathers data on Earth's ecosystems
Image analysis algorithm will help NASA's Curiosity Rover analyze Mars soil
Share your vision-related news by contacting James Carroll, Senior Web Editor, Vision Systems Design
To receive news like this in your inbox, click here.
Join our LinkedIn group | Like us on Facebook | Follow us on Twitter | Check us out on Google +