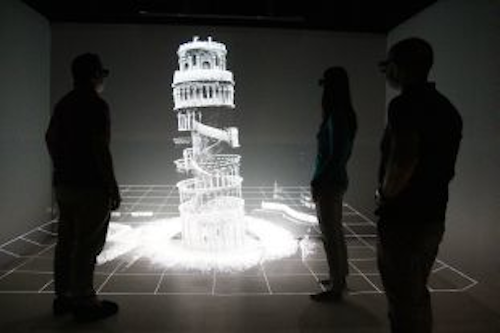 People outside of the machine vision industry may think of 3D imaging as a technique only used to view movies. However, it can also be used for identifying cancer, improving medical procedures, scientific research, and for helping us to remember our past by recreating cultural heritage sites.
To address this latter application, researchers from the Commonwealth Scientific and Industrial Research Organisation (CSIRO), Australia's national science agency, have created an interior 3D map of Italy's Leaning Tower of Pisa by using a Zebedee 3D mapping system.
The Zebedee device is a handheld 3D mapping system which incorporates a laser scanner swaying on a spring to capture millions of detailed measurements of a site as fast as an operator can walk through it. Image processing software then converts the acquired laser data into a detailed 3D map.
"Within 20 minutes we could use Zebedee to complete an entire scan of the building's interior," said Dr Jonathan Roberts, Research Program Leader at CSIRO's Computational Informatics Division. "This allowed us to create a 3D map of the tower's structure and composition, including details in the stairs and stonework."
Roberts says that Zebedee is ideal for cultural heritage mapping, which can be time consuming. Roberts, not accidentally, said the same exact thing about a project we covered back in April. In this particular application, CSIRO worked with the University of Queensland to use Zebedee to preserve some of Australia's oldest and culturally significant heritage sites. The project saw the team collect data from a number of sites, including the 19th century Brisbane River defenses at Fort Lytton and Peel Island's leper colony buildings.