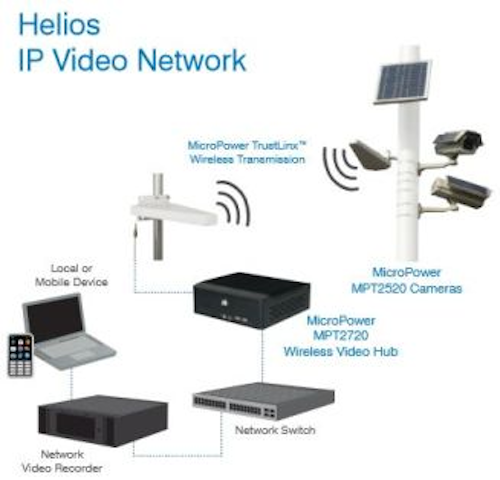 MicroPower Technologies Inc. has released its Helios IR camera, a day/night camera that can capture and transmit infrared-illuminated video data wirelessly up to a half mile. The infrared camera is intended for use in MicroPower's solar wireless surveillance system, which is powered by an integrated solar cell array that reduces power consumption and an embedded battery that enables continuous operation. Also within the system is the MPT2720 wireless video hub, which acts as a centralized traffic coordinator between a wired LAN and up to six MPT2520 wireless cameras. Lastly, the system also contains a 9.0 dBi directional antenna that distributes wireless signals and an auxiliary solar panel which can be placed southward, allowing the camera to be positioned at a wide range of angles to the sun for added deployment flexibility. The system is intended for use in security and surveillance applications, as well as transportation monitoring applications.
To Learn More:

Contact:MicroPower Technologies Inc.
Headquarters: San Diego, CA, USA
Product: Helios IR camera system
Key Features: Requires no cable for data or power, solar powered operation, secure video streaming, one-half mile operating range, standard and telephoto lens options.
What MicroPower Technologies says:
View more information on the Helios IR camera system.
View More Products| Locate a vendor or system integrator | Receive e-mail updates
Share new products that you think are particularly interesting or helpful by contacting James Carroll, Senior Web Editor, Vision Systems Design.
Join our LinkedIn group | Like us on Facebook | Follow us on Twitter