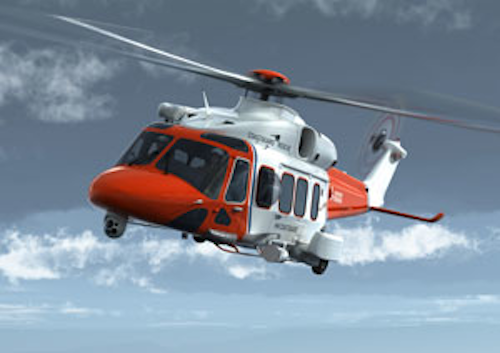 In 2015, the UK will officially launch its Search and Rescue (SAR) helicopter program. Bristow Helicopters, which was chosen as the official helicopter for the program, announced on September 19 that FLIR Systems will provide thermal imaging cameras for the SAR missions.
FLIR Star Safire 380-HD cameras were the model chosen for the SAR program. These full HD systems provide 1080p HD-SDI digital performance and feature 120x zoom ratio, full color digital image blending, and an advanced shortwave infrared band sensor. In addition, the camera features a standard 640 x 512 InSb mid wave infrared focal plane array sensor and a 3-5 μm wavelength. The all-digital, full HD system provides image stabilization, ultra long range imaging performance, and true metadata embedded in the digital video. It is a fully hardened camera suitable for use in fixed-wing and helicopter operations in all conditions.
Bristow Helicopters will provide 11 Sikorsky S-92 and 11 AgustaWestland AW189 choppers which will be located at 10 strategically-identified helicopter bases around the UK. Each base will operate either two S-92s or two AW189s. With FLIR's Star SAFIRE cameras, the helicopters will be able to capture HD, multispectral imaging across the UK.

"Flir is proud to be selected by Bristow Helicopters for the UK Search and Rescue programme," said Bill Sundermeier, president of FLIR Government Systems in a press release. "We take our responsibility to offer lifesaving technology very seriously, and together with Bristow Helicopters, our products and people will be there when survivors and those in distress need the right technology and service to be brought to safety."
The UK SAR services contract, which Bristow will fulfill on behalf of the Maritime and Coastguard Agency, has a phased-in transition period beginning in April 2015 and continuing to July 2017 with a contract length of approximately 10 years.
View more information on FLIR Star Safire 380-HD cameras.
Also check out:
U.S. Coast Guard makes first drug bust using UAVs
UAVs to survey mangrove jungles for mosquito detection
Robots, UAVs used to photograph lions in the wild
Share your vision-related news by contacting James Carroll, Senior Web Editor, Vision Systems Design
To receive news like this in your inbox, click here.
Join our LinkedIn group | Like us on Facebook | Follow us on Twitter | Check us out on Google +