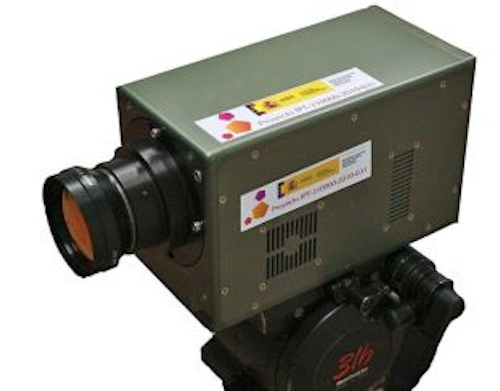 A consortium of research centers and companies, including the Universidad Carlos II de Madrid (UC3M), has created an infrared, remote camera system that is reportedly able to detect pollutants from cars on highways of up to three lanes.
Developed in the UC3M Infrared Lab, the prototype is based on the modification of an infraredmultispectral image camera with interferential filters, according to the UC3M press release.
"These filters are located in a wheel that turns at a high speed in front of the detector and they provide consecutive images of the same scene on different bands, which allows for remote detection of some unburned gases (CO2, CO and HCs)," said Fernando López, head of the UC3M's Infrared Lab, where he has also overseen the creation of a specific software for measuring concentrations of gases.
Ultimately, the camera project came about as a result of the collaborative team wanting to be able to conduct a global test of automobile emissions. Approximately 5% of vehicles are responsible for more than 90% of toxic emissions, and with this system, it can be determined which vehicles pollute more and policies that facilitate their identification be then be created. In addition, the scientists suggest that not only would emissions decrease, but—given that a decrease of emissions would come as a result of less consumption—energy efficiency could increase as well.
The prototype's creators work within the framework of the INNPACTO project, led by the company Technet and employing researchers from CIEMAT, the company Tevaseñal and the UC3M.
This prototype is ready for marketing and reportedly already has several companies expressing interest.
View the UC3M press release.
Also check out:
FLIR cameras detect leaks for offshore oil and gas industry
3D imaging software and scanner inspect corroded oil and gas pipelines
Robot snakes inspect nuclear power plant
Share your vision-related news by contacting James Carroll, Senior Web Editor, Vision Systems Design
To receive news like this in your inbox, click here.
Join our LinkedIn group | Like us on Facebook | Follow us on Twitter | Check us out on Google +