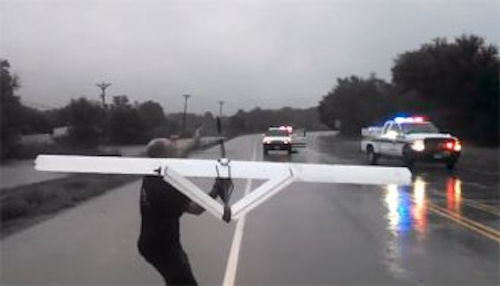 Amidst the aftermath of the devastating floods in Colorado, a Falcon unmanned aerial vehicle (UAV) was deployed to create damage assessment maps to help relief agencies coordinate their efforts.
Falcon UAVs are small planes which feature a gimbaled 10x zoom Sony block camera for video capturing as well as a Tamarisk 640thermal imaging camera from DRS Technologies. Tamarisk 640 cameras feature 640 x 480 pixels with a 17 µm pixel pitch. It produces 24-bit RGB output via Camera Link and weighs less than 60g, which enables it to be integrated into the UAV.
The particular model of Sony block camera is not listed by Falcon, but one possibility is the Sony FCB-EX11D. This particular camera was used in the 2011 Student Unmanned Air System (UAS) Competition by the University of California San Diego team. It features a 1/4-type Sony EXview HAD CCD image sensor, 10x optical zoom lens, and an advanced digital signal processor, which allows it to reproduce detailed images at a resolution of 530 TV lines.
Falcon UAV had been volunteering with the Boulder County Emergency Operations Center to coordinate mapping flights around the towns of Longmont and Lyons, just northeast of Boulder, according to IEEE Spectrum. The planes were able to produce georeferenced maps, like this one here, until Falcon was told to cease and desist by order of the sheriff based on operational takeover by the U.S. Federal Emergency Management Agency (FEMA).
According to a blog posted on the Falcon website, the volunteers were told by FEMA that not only was their request to fly drones denied, but that anyone flying the drones would be arrested. FEMA did not comment on the situation specifically.
View the Falcon blog.
View the IEEE Spectrum article.
View more information on Falcon UAVs.
Also check out:
U.S. Coast Guard makes first drug bust using UAVs
Five ways UAVs are being used by civilians
A glimpse into how the scientific community might leverage UAV technology
Share your vision-related news by contacting James Carroll, Senior Web Editor, Vision Systems Design
To receive news like this in your inbox, click here.
Join our LinkedIn group | Like us on Facebook | Follow us on Twitter | Check us out on Google +