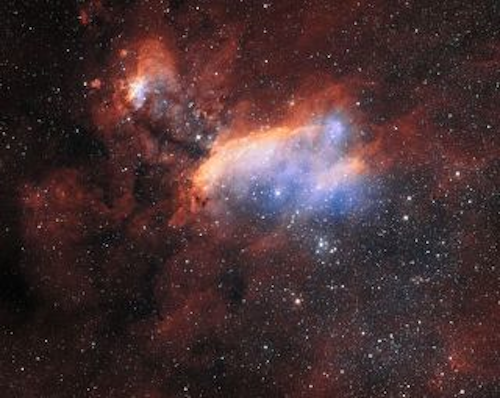 The European Southern Observatory's (ESO) VLT Survey Telescope (VST) at ESO's Paranal Observatory in Chile has produced one of the sharpest images ever taken of the Prawn Nebula, a star-forming region of space located approximately 6,000 light-years from Earth.
The instrument responsible for capturing the image is the VLT Survey Telescope's OmegaCAM. The OmegaCAM is an enormous camera with 32 CCD image sensors which creates images with a total of 268 MPixels, according to ESO. In addition to the main component, OmegaCAM features four auxiliary CCD cameras, two for auto-guiding and two for online image analysis. Up to 12 filters can be used, ranging from UV to near-infrared. The entire system operates in a vacuum at about -140°C behind a large dewar window.
Depending on the observation angle, users can choose between two correctors when using the OmegaCAM. The first device consists of two lenses made from fused silica and is suitable for use when observing close to the zenith in the sky. The second device is a rotating atmospheric dispersion corrector, coupled to one lens only, and is best suited for when the user is observing objects closer to the horizon.
The Prawn Nebula, which is formally known as IC 4628 is a huge region filled with dark dust and gas clouds were stars are formed. It is located within the Scorpius constellation and is about 250 light-years across, covering an area of sky equivalent to four times that of the full moon. This region, according to Phys.org, has formed many stars, both individual and clusters, over the last few million years.
VST, which became operational in 2011, is a joint venture between the European Southern Observatory and the Capodimonte Astronomical Observatory (OAC), part of the Italian National Institute for Astrophysics (INAF). It was designed to survey the sky in visible light in the hopes of discovering and studying remote Solar Systems.
View more information about the VLT Survey Telescope.
View more information about the OmegaCAM.
Also check out:
NASA releases image of Saturn's view of Earth
Largest camera in the world to create 3D map of Milky Way
Multispectral imaging captures views of Mars
Share your vision-related news by contacting James Carroll, Senior Web Editor, Vision Systems Design
To receive news like this in your inbox, click here.
Join our LinkedIn group | Like us on Facebook | Follow us on Twitter