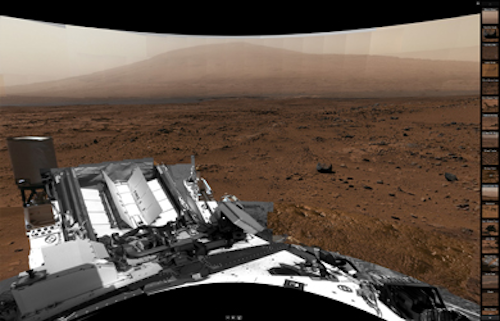 Using nearly 900 images that NASA's Mars rover Curiosity captured, a 1.3 billion-pixel mosaic image of the red planet has been created, which allows viewers to zoom in and see a highly-detailed panoramic view.
Curiosity took 871 images from the rover's mast camera and 25 black-and-white frames from the rover's navigation cameras from October 5 to November 16, 2012. With these images, Bob Deen, of the Multi-Mission Image Processing Laboratory at NASA's Jet Propulsion Laboratory in Pasadena, Calif., constructed the mosaic image of an area dubbed "Rocknest."
The Curiosity Rover is equipped with 17 on-board cameras, according to NASA, which include:
The Mars Descent Imager, which captured photos as the rover landed on Mars, uses a Bayer pattern filter CCD array to obtain 1600 x 1200 pixel natural color images.
The MAHLI Instrument,which is a camera mounted on the end of an arm, acquires images of rocks and surface materials at the landing site. MAHLI images are 1600 x 1200 pixels with resolution as high as 13.9 µm per pixel.
The HazCams, of which there are four in the front and four in the back. HazCams capture black and white images of the terrain near the wheels and close to the rover of up to 1024 x 1024 pixels. Due to their positioning on both sides of the rover, simultaneous images taken by either both front or both rear cameras can be used to produce a 3D map of the surroundings. Vision technology in the HazCams provided by Teledyne DALSA.

The mast cameras, which will take color images and color video footage of the Martian terrain, are two separate cameras with different focal lengths and difference science color filters. One camera has a a ~34 mm focal length, f/8 lens that illuminates a 15° square field-of-view (FOV), 1200 × 1200 pixels on the 1600 × 1200 pixel detector and the other has a ~100 mm focal length, f/10 lens that illuminates a 5.1° square, 1200 × 1200 pixel FOV.
View the full-resolution, zoomable image.
View more information about the NASA cameras.
Also check out:
Multispectral imaging captures views of Mars
Student designs camera for space
Share your vision-related news by contacting James Carroll, Senior Web Editor, Vision Systems Design
To receive news like this in your inbox, click here.