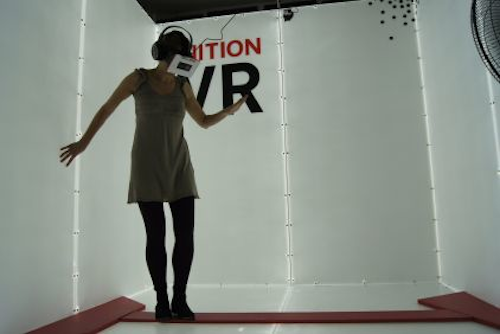 Inition's Vertigo Simulator pairs an Oculus Rift virtual reality headset with a Microsoft Kinect to create what some are calling "frighteningly real" virtual reality.
Inition is a UK-based 3D technology company that specializes in 3D scanning and production, as well as virtual reality production and motion capture. Inition wired the developer version of the Rift headset with a Kinect, which tracks the motion of the user to add to the effect of virtual reality. In its Vertigo Simulator, a user is required to walk on a "ledge" 300 feet about the ground between two buildings. In actuality, the user is simply walking on a thin red strip just millimeters off of the floor, but the visual display created by the Rift, paired with real-time motion-tracking from the Kinect, immerses the user in an intense virtual reality experience. One user even described the experience in a Wired article as "heart pounding and terrifying."
Pegged as the virtual reality headset that will "change the way you think about gaming forever," the Oculus Rift raised $2.4 million in an August 2012 Kickstarter campaign. The Rift headset has a 7-inch screen with 24 bits per pixel that mimics normal human vision by allowing the user's left eye to see extra area to the left and their right eye to see extra area to the right. Its field of view (FOV) is more than 90° horizontal and 110° diagonal, more than double that of similar devices, to create a sense of immersion in gameplay or simulation.
The models currently used for the simulations are developer version kits, which were released in order to get the Rift into the hands of developers looking to integrate their games with the device. These models are designed solely for "immersive virtual reality gaming," but Oculus says that it is continuously improving the feature set for the consumer version with feedback from developers. The consumer-oriented version of the Oculus Rift is currently being developed and could be available in 2014, according to company founder Palmer Luckey.
While the Oculus Rift is still in development mode for games, it does mean that it won't have other applications when it hits the market. Virtual reality technology and vision systems currently intersect in applications like robot vision, surgical simulations, and first-responder training, to name a few, so it is not out of the realm of possibility that the Oculus Rift will extend beyond gaming and make its way into other non-industrial vision applications. Whether virtual reality will finally achieve consumer success with Oculus Rift is certainly unknown, but if the early reviews are any indication, it is on the right path.

View more information on the Oculus Rift.
View more information on Inition.
Also check out:
Kinect-based system optimizes weightlifter's performance
Virtual reality room simulates surgery
Share your vision-related news by contacting James Carroll, Senior Web Editor, Vision Systems Design
To receive news like this in your inbox, click here.