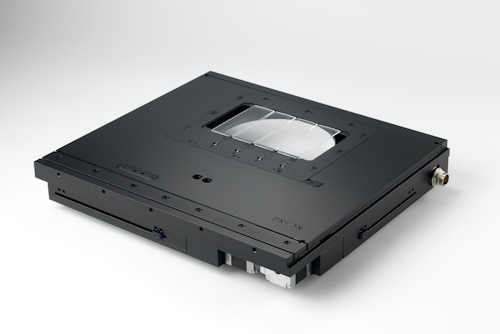 A motorized microscope stage for upright microscopes incorporates a flat top plate design that eliminates any obstacles created by objective/nosepiece rotation. Low-profile sample holders facilitate the use of high NA objectives/condensers while miniature motors facilitate access to the condenser. The H101F model from Prior Scientific also has optional embedded X and Y axis encoders that provide closed loop control. With Intelligent Scanning Technology, the H101F allows each stage to be pre-programmed with a unique set of operating characteristics and also allows the H101F stage controller to make any required adjustments.
To learn more:

Contact:Prior Scientific
Headquarters: Rockland, Mass., United States
Product:H101F ProScan™ Flat Top Upright Microscope Stage
Key Features:Thin flat top design, low profile sample holders, larger sample holder design area (176mm x 154mm), easy access to condenser, optional XY encoders.
What Prior Scientific says:
View more information on the H101F staging.
View More Products
Locate a vendor or system integrator in Vision System Design's Buyer's Guide
Share new products that you think are particularly interesting or helpful by contacting James Carroll, Senior Web Editor, Vision Systems Design.