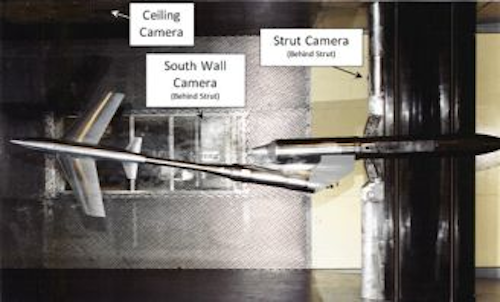 Even with today's existing modeling technologies, which include computational fluid dynamics and flight-simulation programs, aircraft and missile designs require additional testing. As a result, wind tunnel operator Calspan utilized a multi-component vision system for video and image-acquisition for air-flow testing, oil-flow visualization, and Schlieren videography.
The wind tunnel at Calspan is a closed-circuit system for testing scale-model aircraft and subsystems at wind speeds of up to Mach 1.3. In order to provide data to its customers, Calspan uses five cameras for standard air-flow testing, testing of the Schlieren system, and for image-acquisition for the oil-flow visualization.
For visual analysis of air flow, Calspain utilizes the following system where video from each of the cameras is streamed through a Doremi HDVI-20S HD frame rate and signal converter and Extron HDXP Plus HD matrix switcher for display and recording purposes, along with wind-tunnel data by a VideoLogix Proteus II HD video overlay, are recorded by a PC with a GeoVision GV-SDI-204 HD video capture card.
Calspan utilized Point Grey Zebra2 5 MPixel GigE Vision-compliant cameras in order to acquire higher contrast video and still images during oil-flow and laser-vapor screen/Schilieren tests. The distance between the camera and the control room led to the selection of camera with a GigE interface, which allows it to extend to 100m without the needed for repeaters or extenders.
Zebra2 cameras feature 2/3" Sony CCD image sensors with 3.45 µm x 3.45 µm pixel size, global shutter, and an image processing pipeline. In addition, Calspan used Point Grey's FlyCapture2 imaging software, which enabled them to adjust the lighting and cameras for each individual position and model installation, and to remove glare from the metal models under test.
As a result of an updated, improved vision system, Calspan is better suited to provide accurate flight testing in its wind tunnels.
View the case study.
View more information on Zebra2 cameras.
Also check out:
CAMERA INTERFACES: USB 3.0 challenges mainstream camera interface standards
Report: Machine vision growth to be aided by non-industrial vision
Underwater vision systems show crabs surviving off deep sea methane seeps
Share your vision-related news by contacting James Carroll, Senior Web Editor, Vision Systems Design
To receive news like this in your inbox, click here.
Join our LinkedIn group | Like us on Facebook | Follow us on Twitter | Check us out on Google +