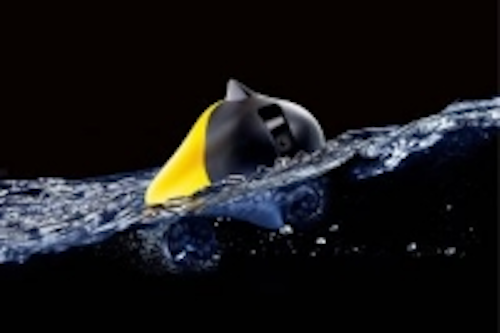 Ziphius aquatic drones from Azorean Aquatic Technologies are small, vision-enabled drones which feature WiFi and Raspberry Pi technology, and are controllable via tablet or smartphone.
The Ziphius drones feature access point WiFi with a range of about 300 ft., an onboard HD 720p camera module attached to a servo arm with 160° rotation, and real-time low latency video streaming through WiFi connection. Video and photos taken by the Ziphius are stored on a MicroSD card. Two propellers are powered by separate brushless motors, which enable the drones to move at about 10 kph (6 mph).
In addition, the underwater drone features white LED lighting— the intensity of which is controlled by accompanying software—to improve video quality in low lighting conditions underwater.
Apps utilized on Android and iOS smartphone and tablets can not only control the Ziphius, but also enable the user to play with augmented reality games and artificial intelligence based apps. While the initial focus may seem to place an emphasis on the "fun" side of the drone, an app development program is currently in the works which will enable users to further explore the capabilities of the Ziphius. This coupled with the fact that the inexpensive drone features a 300 ft. range and imaging capabilities, it is not hard to see Ziphius being used for scientific, environmental, or academic research purposes.
After all, remember that the Microsoft Kinect was initially developed with gaming in mind, and now look at some of its applications:
Ziphius can now be purchased by the public, with shipments starting in the spring.
View more information on the Ziphius.
Also check out:
Unmanned aquatic robots hunt and kill jellyfish
Underwater robots search for World War II pilots, aircraft
Vision-guided robots will restore coral reefs
Share your vision-related news by contacting James Carroll, Senior Web Editor, Vision Systems Design
To receive news like this in your inbox, click here.
Join our LinkedIn group | Like us on Facebook | Follow us on Twitter | Check us out on Google +