Page 2: Underwater vision systems show crabs surviving off deep sea methane seeps
An international team of scientists and researchers have released a research paper describing how vision-enabled submersibles were sent to the bottom of the ocean to document lithodid crabs surviving off of cold methane seeps containing bacteria on the sea floor.
Oct 23rd, 2013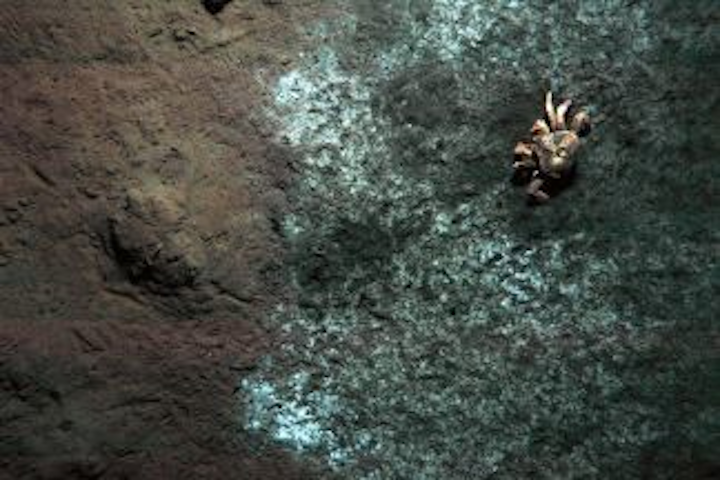 The camera captured photos every 30 minutes for a total of 400 hours (800 images), and in 184 of the images, crabs were seen crawling over the bacterial and grazing on the "bacterial lawn." The ALVIN submersible brought one of the crabs onboard their vessel ATLANTIS and the QUEST took sediment cores from the sea floor for further analysis.
"DNA and isotopic analyses at Max Planck Institute for Marine Microbiology later showed that the crabs actually feed on the bacterial mat and took up large amounts of chemically-produced carbon. In the body cells, we have also found traces of carbon, which was formed under the influence of light through photosynthesis", said lead author Dr. Helge Niemann from the University of Basel.
He added, "Therefore, we assume that cold seeps make an important but not the only contribution to the diet of migratory animals on the ocean floor and in this way enters into carbon, which is produced by chemosynthesis of methane in the marine food web."
View the research paper.
Also check out:
DeepSea Challenger records 3D video of Earth's deepest ocean trench
Underwater robots search for World War II pilots, aircraft
Thermal imaging system protects whales from underwater noise pollution
Share your vision-related news by contacting James Carroll, Senior Web Editor, Vision Systems Design
To receive news like this in your inbox, click here.
Join our LinkedIn group | Like us on Facebook | Follow us on Twitter | Check us out on Google +
Page 1 | Page 2