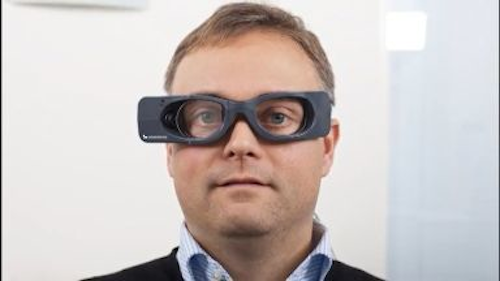 By placing a pair of goggles onto a patient's head, physicians and nurses are able to identify stroke victims who may not have the typical symptoms.
ICS Impulse goggles from Otometrics are fitted with a tiny 250-Hz firewire infrared camera and built-in gyroscopes to ensure accurate head velocity measurement. It also features built-in calibration lasers, built-in head impulse algorithms to filter out inaccurate head impulse data, and video recording capabilities.
Brooklyn Maimonides Medical Center in New York recently received a $17,000 grant from the Foundation for Stroke Prevention to start using the goggles, which were just cleared for sale by the Food and Drug Administration in February. The hospital will be the first in the city to use the goggles, which Dr. Steven Rudolph, director of the hospital's Jaffe Stroke Center, says will help to find stroke victims that might otherwise go undiagnosed without an MRI.
Plus, he says, "Up to 20% of these strokes do not show up on an MRI during the first 24 hours."
The way it works is the camera in the goggles tracks a patient's eye movements while a physician or nurse swivels the person's head in different directions. While doing so, a sensor in the goggles picks up the patient's head movements. Accompanying software then interprets the eye and head movements and determines whether inner-ear ailments are causing a patient's dizziness. If these ear problems are ruled out, then a stroke may be possible, according to the New York Daily News.
A study involving 12 adults appearing in the emergency department of two tertiary care centers at the Johns Hopkins School of Medicine proved the ICS Impulse to be an accurate, viable source of stroke detection, according to Cardiovascular Business. During the study, the 12 adults, who reported having continuous dizziness or vertigo lasting more than one hour, plus nausea or vomiting, were asked to use the ICS Impulse to capture data. The data was then analyzed by two expert neuro-otologists to make an opinion as to whether the results were bilaterally normal (Potential stroke), unilaterally normal (Vestibular neuritis), or equivocal.
Once the determinations were made, each case was then verified via CT or MRI, and with the data provided by the ICS Impulse, the two experts correctly diagnosed all 12 patients, as six had strokes and six had vestibular neuritis.
In addition to helping to identify stroke victims sooner, the goggles will save time and money, as it takes only about 10 minutes and costs about $75 when compared to the average $1,400 for an MRI.
View more information on the ICS Impulse.
View an ICS Impulse brochure.
Also check out:
(Slideshow) The Smartphone Physical: Medical imaging aids the evolution of the check-up
Restore 3D vision with video games
Share your vision-related news by contacting James Carroll, Senior Web Editor, Vision Systems Design
To receive news like this in your inbox, click here.