Another step toward a driverless car reality
Mobileye, a company that develops advanced driver assistance systems, recently received $400 million in funding to further develop its driverless car technology. Mobileye's vision system includes a 1/3" CMOS image sensor with 752 x 480 pixels and 6 μm x 6 μm pixel size and its EyeQ vision processor, which operates at 120MHz.
Jul 11th, 2013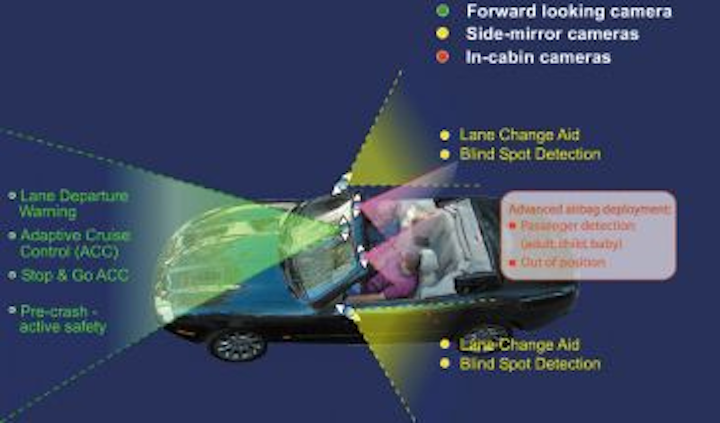 Mobileye, a company that has been working to develop advanced driver assistance systems (ADAS) since 1999, has raised $400 million at a $1.5 billion valuation for itsvision system-based driverless car technology.
Unlike Google'sself-driving cars, which involves sensors, cameras, radar, and software, the model from Mobileye—which aims to be more cost efficient—involves just a camera and a vision-processing chip that Mobileye refers to collectively as SeeQ.
The camera used in this system contains a Micron / Aptina MT9V023 VGA CMOS active-pixel digitalimage sensor with 752 x 480 pixels and 6 μm x 6 μm pixel size. It features near-infrared capability and captures 60 fps while measuring just 9mm x 9mm. In addition, the 1/3" image sensor monochrome, RGB Bayer, and red/clear color filters, TrueSNAP global shutter with simultaneous integratation and readout and a data transfer rate of 27 Mpixels per second.
TheEyeQvision processor operates at 120MHz and has two ARM946E 32bit CPUs with DSP extensions. It has four 64bit vision computing engines and eight channels 64bit direct memory access width 288KB on-chip SRAM. EyeQ helps with real-time visual recognition and scene interpretation for use in intelligent vehicle systems, including lane departure warning capabilities in BMW, Cadillac, and Buick cars, as well as intelligent high beam control and traffic sign recognition for BMW.
Vision-based ADAS are still in early stages of development for public consumption, but Mobileye cofounder and CEO Ziv Aviram said in aNew York Times article that the company's goal is to build a vehicle that can run mostly on autopilot by 2016, but that fully driverless systems will not likely be practical for another 15 to 20 years.
View theMobileye website.
Also check out:
Machine vision a focus at Cornell Cup 2013
A glimpse into how the scientific community might leverage UAV technology
Vision-guided robots will restore coral reefs
Share your vision-related news by contactingJames Carroll, Senior Web Editor, Vision Systems Design
To receive news like this in your inbox,click here.