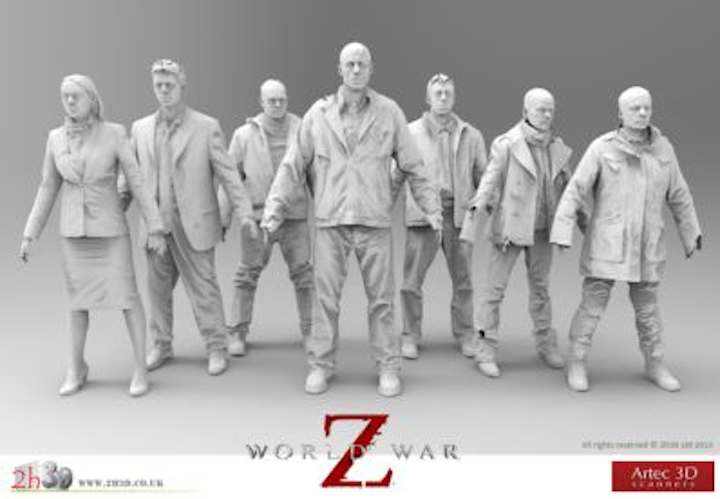 3D scanners from Artec were used to digitize actors, weapons, and various other props in the making of the zombie-apocalypse movie World War Z.
When the movie's VFX department contact2h3D Ltd, a 3D laser scanning and services firm for film and television, on how they might help in the digital capture of assets for the upcoming production, the firm chose the Artec MHT and the Artec L scanners.
The now discontinuedArtec MHT, captures color at up to 24 bits per pixel and features 3D resolution up to 0.5mm and 3D point accuracy up to 0.1mm. It also features 1.3 Mpixel texture resolution and a video frame rate up to 15 fps. In addition, it features 214 x 148 mm linear field of view at closest range and 536 x 371 mm at farthest range. Artec MHT also features USB connectivity. The Artec MHT was used to scan heads and faces as well as props
Artec'sL model has a large linear field of view of 598 x 459 mm at closest range and 1,196 x 918 mm at farthest range. It features 3D resolution up to 1.0 mm and 3D point accuracy up to 0.2 m. The L model also has a video frame rate of up to 15 fps and USB connectivity. Artec L was used to scan bodies for the production of the film.
Total scan time for each performer took less than five minutes and head scans were done in less than one minute. Artec Studiosoftware was then used to process and edit the scan data before exporting the fused model into other software for processing and poly-sculpting, according to the press release.
Processing and editing took a bit longer, as 2h3D allocated approximately two days—depending on how still the subject stood and how complex his/her outfit was—for the processing and editing of each full body, including the merging of the higher resolution head scan with the body data.
2h3D director Guy Hauldren says that Artec 3D scanners were chosen, among other reasons, for their usability and portability.
"With a plug-and-play USB interface and no calibration they are the perfect tool to use in the often chaotic world of film production," he said. "We were delighted with their usability in the field and the resultant data back at the studio, and we continue to utilize them heavily in all our feature production work."
View theArtec press release.
Also check out:
Five applications we never thought of for 3D scanning technology
Students develop 3D thermal mapping system for firefighting robots
3D printed cast created using Microsoft Kinect
Share your vision-related news by contactingJames Carroll, Senior Web Editor, Vision Systems Design
To receive news like this in your inbox,click here.