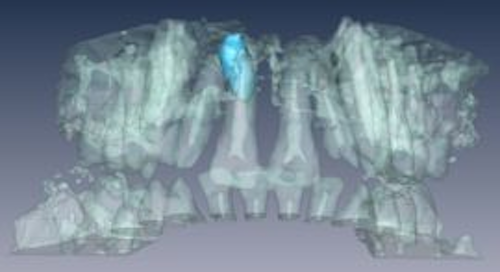 A study that appeared in the July issue of the Journal of Oral and Maxillofacial Surgery (JOMS) shows that magnetic resonance imaging (MRI) is a well-tolerated imaging modality for the diagnosis of dental abnormalities in children and for orthodontic treatment and surgical planning, according to Orthodontic Products Online.
The more traditionally-used cone-beam CT scan exposes patients, particularly children, to potentially high doses of radiation, so researchers from the University of Würzburg looked at 16 patients with a mean age of 10.8 years to assess the feasibility of MRI as a source of diagnosing dental abnormalities. 3D images of the patients' teeth were acquired on a 1.5-T MRI scanner using a 3D turbo spin echo pulse sequence with a voxel size of 0.8×0.8×1 mm.
The results found that using natural MRI contrast, the teeth, dental pulp, mandibular canal, and cortical bone were clearly identifiable and that the position and shape of malformed teeth could be assessed in all three spatial dimensions. In addition, since the MRI provides 3D images and eliminates ionizing radiation, this modality not only optimizes surgical treatment and diagnoses dental abnormalities, but it also increases patient safety.
View the JOMS study.
Also check out:
Algorithms lower the dose of CT scans
Kinect aids rehabilitation of stroke patients
Hand-held scanner images the bladder
Share your vision-related news by contactingJames Carroll, Senior Web Editor, Vision Systems Design
To receive news like this in your inbox, click here.