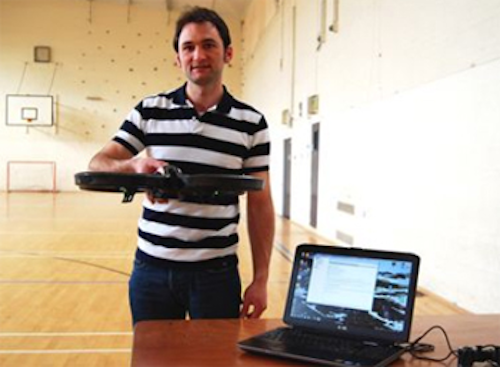 A French postgraduate student has completed seven months research at Shropshire'sHarper Adams University (Newport, UK) developing an unmanned aircraft equipped with a camera to locate, recognize and track livestock.

Marc-Alexandre Favier came to Harper Adams as part of his Masters in Mechatronic Systems Engineering from the University of Osnabruck in Germany.

The 27-year-old's prototype aircraft -- based on an AR Drone 2 with a camera attached to the bottom -- could be used as an eye in the sky for farmers who often have to manage and monitor livestock on very large and remote estates.

He also developed a computer program which instructs the drone to locate, recognize and track the livestock.

Although the drone can be controlled via WiFi on a computer, the aim is for farmers to be able to control it using a smart phone.

Favier said his prototype was designed with Scottish sheep farmers in mind, many of whom spend large amounts of time and cover many miles monitoring their livestock.

"The idea is to combine using a quad bike with an unmanned aerial vehicle to help the shepherd not to have to spend too much time managing his flock," he says.
Favier's prototype can be seen in action on YouTubehere.

Related news items from Vision Systems Design.
1.UAV captures 3-D images of buildings

Unmanned aerial vehicles (UAVs) equipped with all manner of cameras are now being put to use in a variety of applications for monitoring vegetation, assessing power grid damage and helping soldiers to spot suspicious activity.

2.Flash lidar could help planes refuel

Researchers at Advanced Scientific Concepts (Santa Barbara, CA, USA) have proposed using a novel tracking method to establish the relative position and orientation between a UAV and the drogue carried by a refueling aircraft.

-- Dave Wilson, Senior Editor,Vision Systems Design