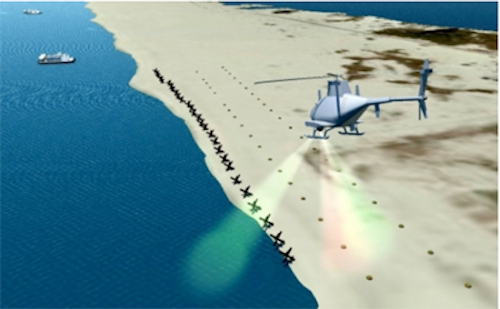 BAE Systems (London, UK) has been awarded a $20m contract to develop a laser-based airborne system that detects mines and obstacles in near-shore waters for the US Navy and Marine Corps.

BAE Systems' prototype uses Light Detection and Ranging (LIDAR) technology to determine the distance to an object. LIDAR has the ability to collect images at a high resolution through the sea surface, allowing small underwater objects to be located and classified.

Development work on the system will be carried out at BAE Systems' facilities in Honolulu, HI, Greenlawn, NY, Acton, MA and Hudson, NH.

Related items from Vision Systems Design that you might also find of interest.

1. Flash lidar could help planes refuel

Researchers at Advanced Scientific Concepts (Santa Barbara, CA, USA) have proposed using a novel tracking method to establish the relative position and orientation between a UAV and a drogue carried by a refueling aircraft.

2. Lidar optimizes wind turbine output

Working with engineers from the National Renewable Energy Laboratory (NREL; Boulder, CO, USA), scientists from the University of Stuttgart (Stuttgart, Germany) have developed a control system that can optimize the energy extracted from wind turbines.

3. Lidar system scans mineshafts

Canada-based Sight Power is working with Shaft Sinkers Holdings and Parsec to develop a mobile mine shaft scanner.

-- Dave Wilson, Senior Editor, Vision Systems Design