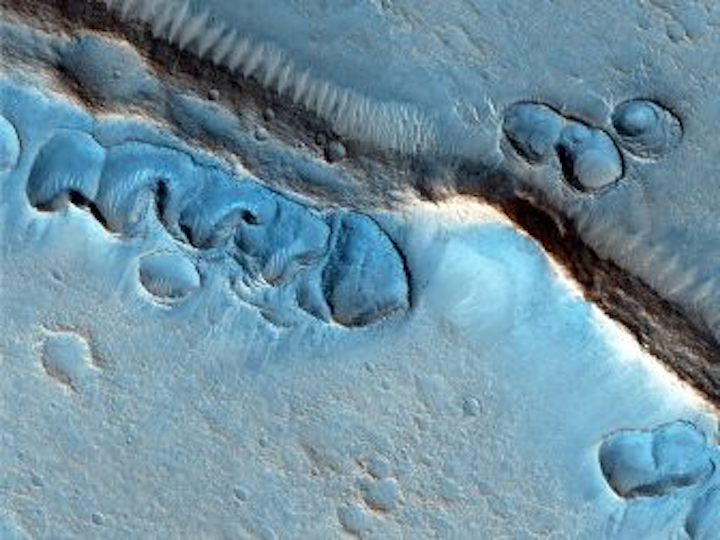 Using multi-spectral imaging, the High Resolution Imaging Science Experiment (HiRISE) has captured breathtaking photos of the surface of Mars.

Aboard the Mars Reconnaissance Orbiter, the HiRISE camera takes images of the red planet in three color bands: 400 to 600 nanometers (blue-green,) 550-850 nm (red), and 800 to 1,000 nm (near infrared). Since human eyes see wavelengths from about 390 to 700 nm, HiRISE cross-maps the longer bands to the visible spectrum and creates a false-color image that helps viewers see details more clearly, according to a Huffington Post article about the system.

Some of the notable images taken by HiRISE include:

Shallow, irregular pits. It is still unknown what caused these so-called "mystery features," and one theory suggests that they were sculpted by ancient glaciation.
Dune fields and wall rock. It is suggested by researchers that the dune sand, wall spurs and boulders in this image are composed of olivine, which is highly susceptible to weathering by aqueous processes.
Raindrops of sand. The dark, raindrop-like sand dunes in this image are rich in olivine, which rapidly weathers to clay in wet environments.

View all of the new Mars images taken by HiRISE.

Also check out:
Image processing software measures movement of Martian sand
Curiosity rover's cameras capture color images of Mars

Share your vision-related news by contacting James Carroll, Senior Web Editor, Vision Systems Design