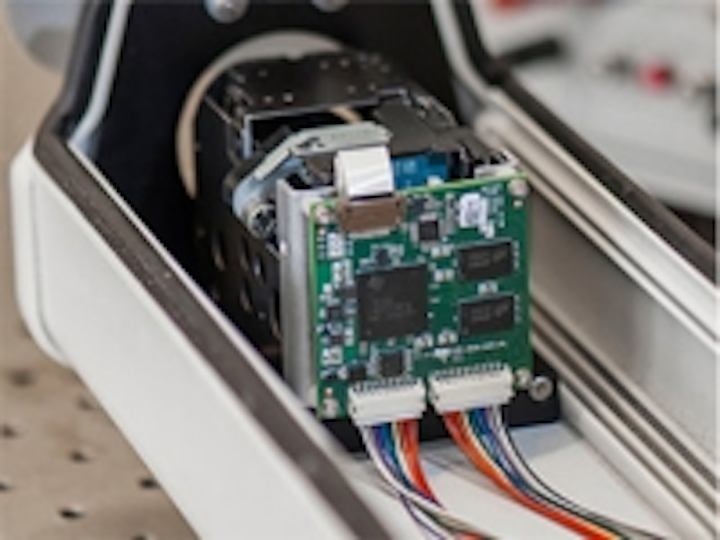 In surveillance, intelligent traffic systems, robotics, and unmanned vehicles, camera motion can make video images hard to interpret, trigger false alarms, reduce storage capacity, and decrease available transmission bandwidth. Yet these are applications where many Sony (Park Ridge, NJ, USA) block camera modules are widely used.

Now, in an effort to reduce the issues cased by such camera motion, engineers at SRI International (Menlo Park, CA, USA) have developed a video stabilization interface board expressly designed for Sony FCB-EX and FBB-EX-E standard definition block cameras.

The ILS-5000-SD video stabilizer board matches the profile of the Sony block cameras while supporting Sony's VISCA camera control protocol, enabling it to be integrated into new and existing systems. It corrects for unwanted vertical, horizontal, and rotational motion across a range of shake frequencies, improving overall system performance.

"SRI stabilization technology is already being used in high-end military and surveillance applications," said Mark Clifton, vice president, SRI Products and Services division. "The ILS-5000-SD now brings this capability to a far broader range of industries and applications."

A data sheet detailing the specification of the video stabilizer board is available here.

Recent articles featuring Sony technology you might also find of interest.
1. Sony develops skin sensor

Engineers at Sony Corporation (Tokyo, Japan) have developed a system for analyzing various elements of the skin, including texture, blemishes, pores, brightness and coloring.

2. Stacked CMOS image sensor from Sony improves on conventional back-illuminated designs

A new back-illuminated CMOS image sensor that layers back-illuminated structure pixels onto chips containing the circuit section for signal processing in place of supporting substrates in conventional back-illuminated CMOS image sensors has been developed by Sony (Tokyo, Japan).

3. Vision app repository now available for cameras

Mimicking the highly-successful app store from Apple, the machine-vision company Tordivel (Oslo, Norway) has launched a commercial machine vision app repository to enable OEMs to build dedicated vision applications using smart cameras from Sony Europe's Image Sensing Solutions (Stuttgart, Germany) division.l

-- Dave Wilson, Senior Editor, Vision System Design