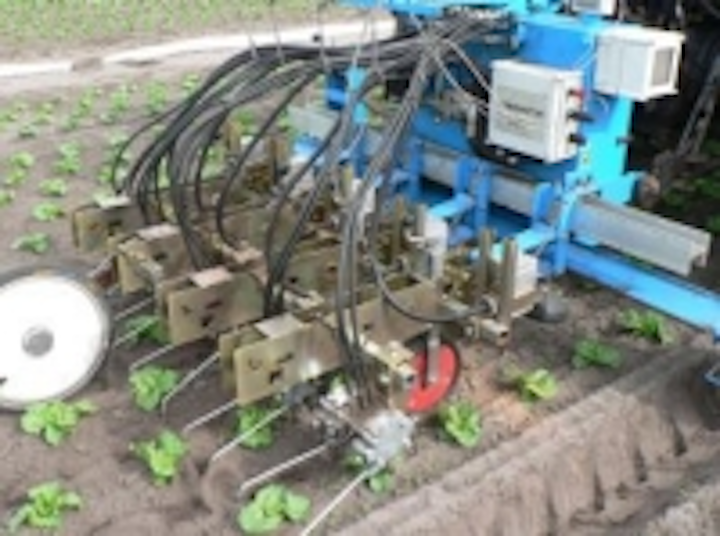 Agricultural servicerobots, such as those working in harvesting and farming, are seeing a widespread boost in sales and usage as a result of the increased efficiency and productivity they provide. Consequently, an individual presentation on agricultural service robots will be made in the new exhibition sector for professional service robotics at the AUTOMATICA 2014 trade fair.
Field robots accounted for 33% of all service robots sold in 2012, according to a press release fromAUTOMATICA. These robots enable more efficient processes in harvest logistics, including the sewing, seeding, fertilizing, and feeding of animals with increasing autonomy. In an article published last December, Vision Systems Design Editor in Chief Andy Wilson discussed a number of such robots, including one that harvests strawberries, a second that identifies defects on apples, and another that sorts dates. Of such robots, he noted that:
"Vision-guidedrobotic vision systems will play an increasingly important role in such systems as they become capable of such tasks as automated farming, animal husbandry, and crop monitoring and analysis."
AUTOMATICA has also provided some recent examples of such robotics, including:
A project from the German Ministry of Economics and CLAAS, a global agricultural technology company, called marion, which involves a system that calculates routes for combine harvesters and infield transporters that coordinate with one another.
Kongskilde Industries' Vibro Crop Robotti agriculture platform, which is an electrical drive-belt powered robot that plants seeds and mechanically removes weeds, especially for row crops.
F. Poulsen Engineering's Robovator robot for selective hoeing in row crops. This robot usesindustrial cameras to recognize weeds based on height of the plant and sends a pulse to the hydraulic tines, allowing the hoeing tools to swivel in and out.
Lely Industries' line of robot milking systems, which recognize feeding signals and adapt the composition and quality of the feed and the feeding technique to suit demand.
As the world's population grows, so does its demand forfood. Because of this, using high-tech agricultural robots like the aforementioned models will become increasingly important for food production, suggests AUTOMATICA. A presentation titled "Vision-guided robotics in the agriculture and food industry: The advantages of close cooperation between research and SMEs" will take place on June 4 of the show, which on the whole, runs from June 3-6 at Messe München in Munich.
View more information on agricultural robots atAUTOMATICA 2014.
Also check out:
New VDMA Robotics and Automation managing director discusses the state of the industry
Machine vision: A look into the future
(Slideshow) Robots and research: Eight examples of innovative imaging applications
Share your vision-related news by contactingJames Carroll, Senior Web Editor, Vision Systems Design
To receive news like this in your inbox,click here.
Join ourLinkedIn group | Like us on Facebook | Follow us on Twitter| Check us out on Google +