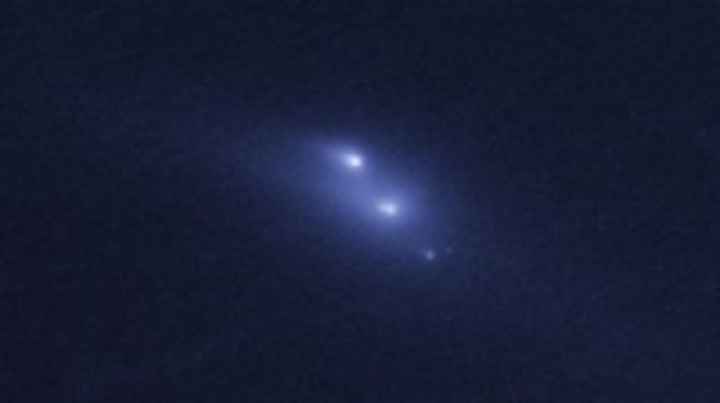 A recent image captured by the NASA/ESA Hubble Space Telescope shows the P/2013 R3 asteroid crumbling and fragmenting into as many as ten smaller pieces, a sight that has never before been observed in the asteroid belt.
Hubble's wide field camera 3 (WFC3) captured images of the asteroid, which has fragments drifting away from each other at less than one mile per hour. Some of the fragments are more than 650-feet in radius, about twice the length of a soccer pitch. The asteroid began coming apart in early 2013, but the images show that pieces continue to emerge, according to an ESA press release.
"This is a really bizarre thing to observe – we've never seen anything like it before," says co-author of a paper on the investigation Jessica Agarwal of the Max Planck Institute for Solar System Research. "The break-up could have many different causes, but the Hubble observations are detailed enough that we can actually pinpoint the process responsible."
Hubble's WFC3 features an ultraviolet and visible light and infrared channel. A channel select mechanism directs incoming light to the desired channel:
The IR channel features a Teledyne Imaging Sensor 1Kx1K HgCdTe detector with, a 0.13 arcsecond pixel size, and a total field of view of 123 x 136 arcseconds.
The UVIS channel features two e2V thinned, backside illuminated, UV-optimized 2Kx4K CCD image sensors with 0.04 arcsecond pixel size and a total field of view of 162 x 162 arcseconds.
Researchers conclude that the asteroid is likely disintegrating due to a subtle effect of sunlight that causes the rotation rate to slowly increase over time. Eventually, the asteroid's pieces begin to gently pull apart due to centrifugal force. The possibility of disruption by this phenomenon, known as the YORP effect, has been discussed for several years but never before reliably observed, said the ESA.
View the ESA press release.
Also check out:
NASA's Kepler spacecraft discovers 715 new planets
Australian astronomers discover oldest known star in the Universe
Curiosity rover's image shows Earth as "Evening Star"
Share your vision-related news by contactingJames Carroll,Senior Web Editor, Vision Systems Design
To receive news like this in your inbox, click here.
Join our LinkedIn group | Like us on Facebook | Follow us on Twitter | Check us out on Google +