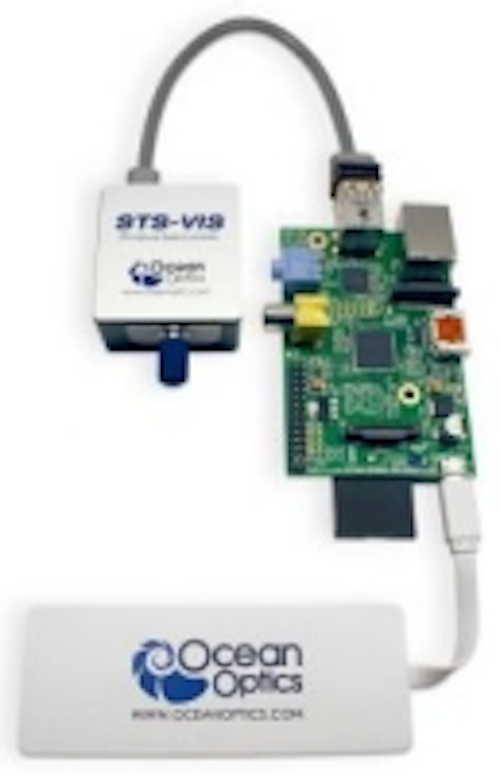 Designed for those who want to create a platform for spectral measurements, Ocean Optic's new STS developers kit features an STS microspectrometer, a Raspberry Pi microcomputer, customizable software, and wireless capabilities. The STS spectrometer features a 1024 pixel linear CMOS sensor and measures just 40 mm x 42 mm x 24 mm. Once connected to a WiFi network (range up to 150 m), the spectrometer can be controlled through phone, tablet, or web browser. (A plug-in WiFi dongle is included in the kit.) With the kit's web-scripting API enables development of custom scripts and applications, allowing the STS and Raspberry Pi to perform a number of different tasks. Ocean Optics SeaBreeze drivers communicate directly to the spectrometer via USB interface.
In addition, the STS Developer Kit offers the choice of three STS models: STS-UV (190 - 650 nm), STS-Vis (350 – 800 nm) and STS-NIR (650 – 1100 nm). Application examples include handheld devices for light metrology or color measurements and mounting on UAVs in remote sensing applications.
To Learn More:
Contact:Ocean Optics
Headquarters: Dunedin, FL, USA
Product: STS development kit
Key Features: STS microspectrometer, Raspberry Pi microcomputer, customizable software, plug-in WiFi dongle,8 GB SD card w/ software and drivers.
What Ocean Optics says:
View more information on the STS development kit.
View More Products| Locate a vendor or system integrator | Receive e-mail updates
Share new products that you think are particularly interesting or helpful by contacting James Carroll, Senior Web Editor, Vision Systems Design.
Join our LinkedIn group | Like us on Facebook | Follow us on Twitter | Connect on Google +