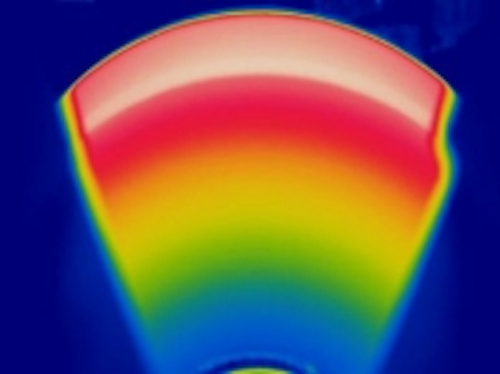 In the latest tests conducted as part of the Bloodhound SSC Project—in which a team of top engineers is developing a car that can travel at 1,000 mph and break a land speed record—the vehicle's wheels were tested using laser sensors and an infrared camera.
The wheel spin test took place in June at the Rolls-Royce test facility in Derby, UK, in order to verify that the expansion, temperature increase, and vibration of the wheels were within expected, safe limits, and whether these test results would match the Bloodhoud Team's predictions using computer simulation. To perform the test, Micro-Epsilon supplied the team with an infrared camera and non-contact laser displacement sensors.
During the test a thermoIMAGER TIM 450 infrared camera was used for thermal imaging capabilities. The thermoIMAGER TIM 450 features a 382 x 288 uncooled microbolometer focal plane array with a 25 µm x 25 µm pixel pitch and spectral range of 7.5 µm to 13 µm. The camera also has an IP67 rated housing, a USB 2.0 interface, and operates at a speed of 80 Hz.
In addition, a total of 15 laser displacement sensors from Micro-Epsilon's optoNCDT series were used. Nine optoNCDT 1700 sensors with a measuring range of 10 mm were set up on the test rig to measure the radial and axial run of the aerospace-grade aluminum wheel as it rotated as speeds up to 1,100 mph. Two optoNCDT 1700 series sensors with a measurement range of 2 mm were set up to measure the thermal expansion of the frame that runs across the top of the test rig. Four optoNCDT 1402 sensors with a measuring range of 5 mm were mounted underneath the test rig in a confined space, and were used to measure the run out, alignment and any other movements of the test rig.
During the test, it was determined that the wheel was successfully spun to 10,429 rpm (174 revolutions per second). These results were similar to what the Bloodhound engineers had predicted using computer simulation software. According to the BLOODHOUND Team, the empirical data collected during the test will now be used to fine-tune the computer simulations, delivering a more optimum wheel design.
View the Micro-Epsilon press release.
Share your vision-related news by contacting James Carroll, Senior Web Editor, Vision Systems Design
To receive news like this in your inbox, click here.
Join our LinkedIn group | Like us on Facebook | Follow us on Twitter | Check us out on Google +