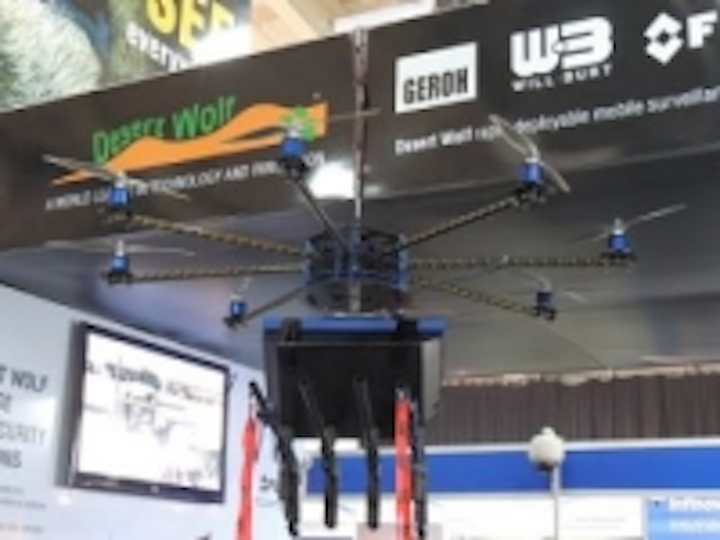 Developed by South African company Desert Wolf, the Skunk riot control unmanned aerial vehicle (UAV) is equipped with high-definition cameras, an infrared imager, and a set of paintball guns able to fire paint balls or pepper spray balls at unruly crowds.
The UAV, which was recently unveiled at the IFSEC security exhibition in South Africa, was designed with the idea of controlling and deterring crowds without endangering the lives of security personnel, according to a press release. It is equipped with two HD cameras (a vendor name is not provided), as well as a FLIR infrared camera for night vision capabilities.
The Skunk UAV features strobe lights, "blinding lasers" (according to Desert Wolf), a microphone, and speakers for crowd communication, which enables its operators to communication with crowds. It also has four paintball guns that are able to fire different types of ammunition, including dye marker balls, pepper spray balls, or solid plastic balls. The payload capacity of the UAV is approximately 88 lbs. (44 kg).
While many may take issue with the idea of a UAV equipped with riot control weapons and perhaps even slip in a few Skynet references, the Skunk does effectively remove a police officer or security guard from harm's way in a riot situation.
Desert Wolf will ship the first 25 units to customers in the mining industry in Africa who have had recent issues with strike-related violence. The UAV will is set to enter service this summer.
Share your vision-related news by contacting James Carroll, Senior Web Editor, Vision Systems Design
To receive news like this in your inbox, click here.
Join our LinkedIn group | Like us on Facebook | Follow us on Twitter | Check us out on Google +