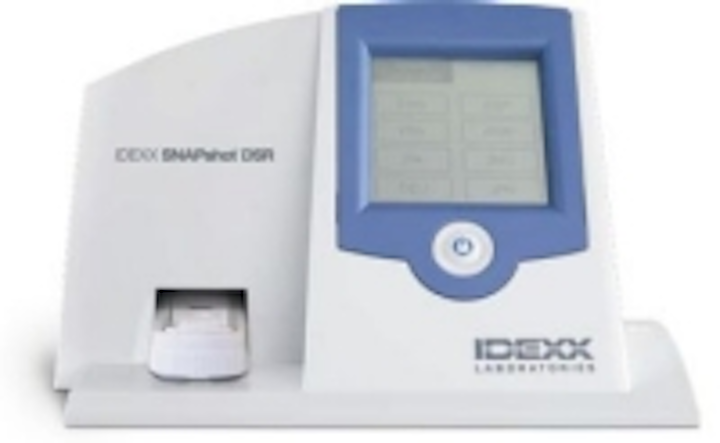 Dairy farms, dairy processors, and milk consolidation stations rely on the testing of milk for antibiotic residue and contaminants. As a result, tests must be performed on the milk prior to processing. IDEXX, a biotechnology company specializing in diagnostic products and services, recently had a vision system developed that utilizes a camera and a spot detection algorithm in order to automate the testing of milk for antibiotic residue and contaminants.
The system, which is called the SNAPshot DSR, allows testers to have negative or positive results determined for them in an efficient manner. IDEXX partnered with machine vision company JADAK, which integrated a JE-205 OEM 2D Barcode Scan Engine into the SNAPshot DSR reader in order to capture images of the milk test strip. The JE-205 utilizes a 752 x 480 CMOS image sensor and integrated LEDs and is capable of reading linear, stacked linear, matrix barcodes, and OCR fonts, as well capturing digital images.
After images of the test strips are captured, the reader utilizes a machine vision algorithm developed by the JADAK team for spot detection on the strips to correctly determine if they were positive or negative. The JADAK engineering team also designed the hardware, manufactured, and fully assembled the new module on IDEXX's behalf. The reader is equipped with a touch-screen display, printer compatibility, and SNAPconnect software which allows for data management and the option to choose from one of eight available languages: English, French, Portuguese, German, Italian, Spanish, Chinese, and Japanese.
"Choosing JADAK was instrumental to achieving the results we required—all from a single source. Our customers around the globe can test with ease and be confident that they will not have to replace their equipment any time soon," said Bill Lane, operations manager, IDEXX.

View more information on the SNAPshot DSR.
View more information on the JE-205.

Share your vision-related news by contacting James Carroll, Senior Web Editor, Vision Systems Design
To receive news like this in your inbox, click here.
Join our LinkedIn group | Like us on Facebook | Follow us on Twitter | Check us out on Google +