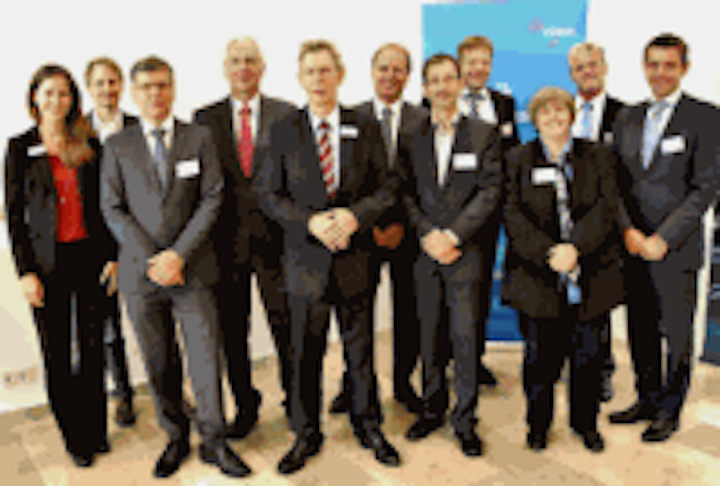 At its semi-annual meeting of the Photonics Steering Committee, the VDMA Photonics Forum appointed four new representatives in an effort to broaden the technological expertise within the group.
The newest members of the steering committee are: Bernd Lange (LPKF Laser & Electronics AG), Dr. Armin Renneisen (Rofin-Sinar Laser GmbH), Dr. Eric Rüland (ISRA Vision AG), and Prof. Dr. Wolfgang Schmutz (ACI AG). The committee defines the work program and strategic direction of the forum and contributes valuable industrial expertise to the forum. The expansion was made in order to better reflect the different photonics subsectors, including laser material processing, image processing and measuring technology, photovoltaic production resources, electronics production, and micro-engineering.
"We are pleased that the successful integration of additional experts provides the steering committee with an even broader technological basis. This enables us to map out our radius of activity with an even stronger practical focus," says Gerhard Hein, Head of the VDMA Photonics Forum.
In a separate press release, the VDMA Photonics Steering Committee congratulated Professor Stefan W. Hell of the Max Planck Institute for Biophysical Chemistry in Göttingen, Germany for winning the Nobel Prize in Chemistry. Professor Hell, a physicist, won the award for his development in super-resolved fluorescence microscopy. The microscopy method developed by Professor Hell represents a breakthrough development in the field of photonics, according to the VDMA.
"Awarding the Nobel Prize to Stefan Hell is a strong statement, not only that excellent, world-class science is being practised in Germany, but also that optical technologies can offer solutions for problems which seem to be insoluble," explains Jürgen Valentin, Chairman of the Board of NanoFocus AG and member of the photonics steering committee.
This marks the second award that was given to someone in the field of photonics, as the Nobel Prize for Physics was awarded for the development of blue LEDs.
View more information.
Share your vision-related news by contacting James Carroll, Senior Web Editor, Vision Systems Design
To receive news like this in your inbox, click here.
Join our LinkedIn group | Like us on Facebook | Follow us on Twitter | Check us out on Google +