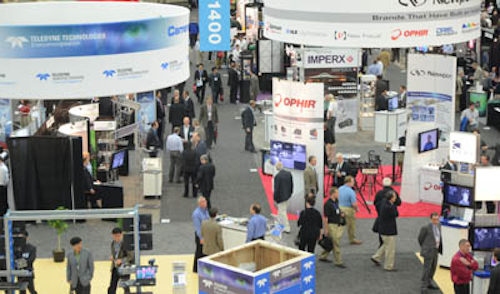 At SPIE Defense, Security+Sensing (DSS) 2014, an expected crowd of 6,000 attendees will have the chance to interact with more than 450 suppliers of precision optics, lasers, sensors, optical materials, infrared imaging, optoelectronics, and data analysis components in Baltimore, MD, from May 5-9.
SPIE DSS 2014 consists of more than 55 conferences covering the latest research in defense and commercial sensing technologies, as well 40 courses developed by industry experts. This year, the conference has reorganized into two technical symposia, each of which will have conferences covering a number of topics:
Sensing Technology + Applications (New): Hyperspectral imaging, infrared sensors and systems, imagery and pattern analysis, sensors and systems, ocean monitoring, fiber optic sensors, wireless sensing, Terahertz device and systems, sensing for agriculture and food safety, thermosense, energy harvesting, 3D imaging, and robotics.
Defense + Security: Aerospace, border protection, laser technologies, C3I (Command, control, communications, and intelligence), military medicine, first responders, heads-up and other displays, system/network integrator, VAR, instrumentation and control, UAVs, infrared imaging, communications/networking.
Topics in the newly-launched Sensing Technology + Applications symposium serve the drive to commercial sensing technologies and expand applications development opportunities.
"This is an exciting opportunity to see talks and exhibits covering the entire scope of the sensor product development cycle, from academic research to industrial deployment," said steering committee member Robert Lieberman (Intelligent Optical Systems), in a press release.
On the Defense + Security side, the conferences underscore the significance for government, academic, and industry researchers, engineers, and program managers.
"In an environment of increasing budget constraints, new technologies can provide affordable solutions to critical defense and security problems," said DS symposium co-chair Nils Sandell (DARPA). "With its comprehensive technology coverage, SPIE DSS is a must-attend event for engineers and program managers."
Page 1 | Page 2