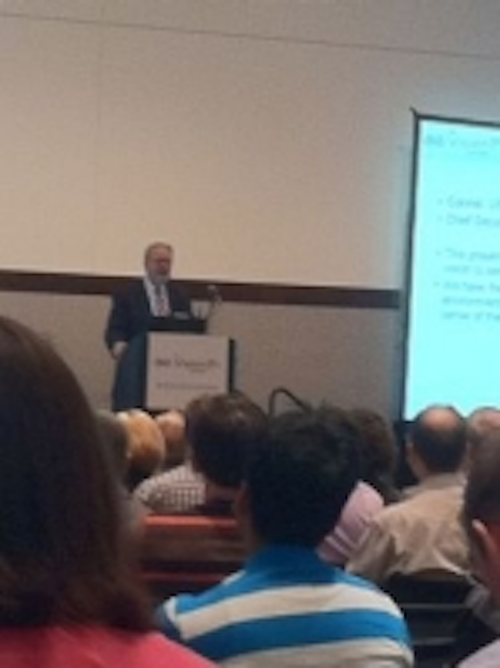 Kicking off the first official day of the AIA Vision Show (Tuesday, April 15) was a keynote speech delivered by retired US Army Colonel Dennis Treece on how high-end surveillance and security technologies are being used to protect us.
Not coincidentally, the keynote topic coincided with the one-year anniversary of the Boston Marathon bombings, which occurred just down the street from the Hynes Convention Center, where the show is being held. Prior to introducing Treece, Paul Czeropuszko, Director of Business Development, FLIR Commercial Systems, Inc. showed video captured by security and infrared cameras of the pursuit of the bombers, which led to the eventual capture of Dzhokhar Tsarnaev.
Treece, who is also the former Chief Security Officer and Director, Department of Corporate Security and Emergency Preparedness, Massachusetts Port Authority, provided an informative presentation on how cameras and software, which he referred to as "Security vision," can be used to help law enforcement solve crimes. He gave two examples, the first of which was the July 2005 bombing in London. In the midst of this tragedy, images captured from public transport surveillance images were vital to the identification of the terrorists.
He then talked about the marathon, where bombs were detonated on Boylston Street in Boston. Images captured by the public and by security cameras were used to identify the suspects, and eventually infrared cameras were utilized to identify and capture Tsarnaev in Watertown, Mass.
Treece spoke in great detail about security vision programs, identifying a number of key issues that anyone involved in the installation, management, or analysis of a system should consider and address. He also spoke about the development of current and potential uses of security vision, including determing a person's intentions, identifying hidden bombs from a distance, detecting a person with a communicable disease, finding an underground tunnel, finding a broken railroad track or leaks in underground pipes, and finding kidnap victims.